11 Beautiful Instagram Photos of the Historic Snowstorm That's Hitting Iran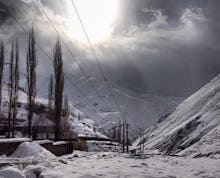 On Saturday, Iran was blanketed with the largest snowfall in 50 years. In Tehran, temperatures plunged to 19 degrees, making it the capital's coldest night of the year. Some schools in northern Tehran were closed Monday because of the weather. The Iranian media reported that the snow had cut off power supplies and trapped villagers. The storm is "unprecedented for the past 50 years, with two metres (almost seven feet) of snow falling since Friday," a Mazandaran provincial official said. 
The head of Iran's Red Crescent said that around 11,000 people had been saved after getting stuck in heavy snow. "Some 3,800 people have also been settled in emergency shelters," Pir Hossein Kolivand was quoted as saying by the official Iranian news agency. Further, it was also reported that 79 people had been taken to hospital as a result of the bad weather.
Still, some Iranians revelled in the snow, taking the time to play and capture it with photography. Here are some of the best photos:
1.
2.
3.
4.
5.
6.
7.
8.
9.
10.
11.