Things You Should Never Say to a Person From Africa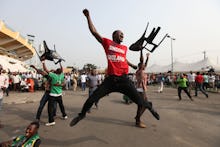 Dear citizens of the world, despite the valiant efforts of National Geographic, there are people who know virtually nothing about Africa. That's perfectly okay, I haven't a clue about nuclear physics, but this does make me cautious about sharing my opinion on cold fusion. Sadly this isn't the case when it comes to people talking about my home continent. You would be shocked by the bizarre things I've heard. 
For the next few minutes think of me as your BAFF (Best African Friend Forever) as I share some of those stories and comments with you. This boutique study was conducted with the assistance of my Africa-savvy network of colleagues and friends who have spent years patiently correcting misconceptions about the continent.
One particularly memorable comment came from a U.K. colleague who, after seeing me one day with short hair and the next day with long extensions, said, "Wow! How does African hair grow so fast?"
Everything you're about to read was actually said to the wonderful people listed below. Hold tight, we're heading off on a safari of stupid. And maybe after we're done, you'll think twice about what you think you know about Africa:
1. Danai Gurira, actress "The Walking Dead"
"The whole lion and tigers thing, like we hang out with them as we walk down the street. LIKE WE EVEN HAVE TIGERS!! I have to really convince people that they are not African animals"
"Africa's a country, right?"
2. Nadia Bilchik, Broadcaster
"You can't possibly be from South Africa, you're not black."
"Is English your second language?"
3. Haru Mutasa, Reporter, Al Jazeera English
"Harare International Airport is very nice. I expected something that looked more African."
"I didn't eat all day to find out what it's like for starving people in Africa."
4. Edward Boateng, Global Media Alliance
"A friend once asked me at work, what do you eat when you are travelling in Africa? It must be difficult since there's no proper food," she said with concern. When I asked what proper food was, she told me she had heard that 'there were no Burger Kings, McDonalds or Starbucks in Africa.'"
5. Claudine Moore, Founder C Moore Media
"People wear shoes?"
"Lots of flies, Claudine … always on your face."
6. Milena Mikael-Debass, Producer, Al Jazeera America
"My introduction to the U.S. was a boarding school in central Virginia where a few of my male classmates offered themselves up as mercenaries for my father. My father sold packing goods at the time."
"So do you speak African?"
7. Adeola Fayehun, Journalist Sahara TV
"How did you learn English?"
"Have you ever seen a TV?"
"Do you sleep in trees?"