Pussy Riot and Madonna Join Forces to Expose Putin's Human Rights Record Ahead of Sochi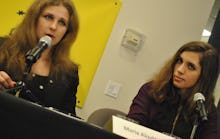 Members of the feminist punk outfit Pussy Riot who were released from prisons in Russia late last year turned up in United States on Tuesday. The appearance of the persecuted punk rockers in New York City and their scheduled concert Wednesday night at the Barclay's Center in Brooklyn will surely cast a shadow on attempts by Russian President Vladimir Putin to present a wholesome image back home, where final preparations for the Winter Olympics are underway.
The activists, whose balaclava headgear has become an international symbol for freedom of speech and LGBTQ rights, faced a barrage of reporters at Amnesty International's headquarters Tuesday afternoon.
"What makes you want to keep on living even when you're behind bars is that feeling of solidarity and compassion that even goes through thick prison walls," said Pussy Rioter Nadezhda "Nadya" Tolokonnikova, her remarks translated from Russian by her husband Pyotr Verzilov.
Pussy Riot, which was more of a performance-based activist collective than a band, has drawn international attention since members were tried and convicted of "hooliganism motivated by religious hatred" in the summer of 2012 for dancing in ski masks on the high alter at Moscow's Cathedral of Christ The Savior. Their guerrilla performance was later mixed into a music video with lyrics praying for Putin's demise and sardonically criticizing his government's repression of homosexuals. It was set to a punk rock back beat.
Pussy Riot's prosecution came in the wake of highly contested elections the previous spring which placed Putin back in the presidency after a stint as prime minister. Long after authorities had managed to suppress much of the outrage in the streets that sprouted in opposition to Putin's election, the trial of Pussy Riot became a lingering reminder of the authoritarianism still prevalent in Russia.
On Tuesday, Tolokonnikova and fellow Pussy Riot activist Maria "Masha" Alyokhina expressed sympathy for those still behind bars for peacefully voicing dissent. They also voiced alarm at an increasing array of measures enacted in their homeland that they said take aim at civil liberties, including a piece of legislation against "gay propaganda" passed in 2013.
Verzilov, translating for Alyokhina, described such dictates as "absurd." She corrected him. "It is bullshit," she said, adding that the anti-gay measure, "effectively cancels the right to private relationships."
In December, both Alyokhina and Tolokonnikova were released by a surprise piece of amnesty legislation put forward by Putin ahead of the winter games. The president, who had previously praised the convictions of the Pussy Rioters by stating that they "got what they asked for," claimed the bill was meant to commemorate Russia's 20 years since the fall of the country's Soviet regime.
Observers, however, say Putin is seeking to dispel criticism of his human rights record ahead of the Olympics, scheduled to begin Friday in Sochi. While political prisoners have been granted a "get-out-of-jail-free" card from the president, the amnesty deal won't prevent future political prosecutions.
"What happened to us doesn't stand out from other cases in Russia," said Tolokonnikova. "It is part of a wide crackdown on liberties that is happening right now." As the games are set to begin, she pointed out, several activists critical of the destruction wrought in erecting the massive Olympic complex in Sochi have already been detained.
Opening ceremonies start on Friday but the Pussy Riot members and Amnesty International are planning their own piece of pageantry. Alyokhina and Tolokonnikova will appear with an all-star lineup that includes Madonna and the Flaming Lips at a benefit concert for the rights group on Wednesday night.
Pussy Riot's guttural punk outrage, reflecting the frustrations of those languishing behind the scenes in Russian prisons or who are too afraid to speak out, might just cast a spell over the pomp and circumstance in Sochi before the parade of nations begins.
After the concert, Pussy Riot will begin a tour of U.S. prisons, where 2.3 million people are currently incarcerated — many for nonviolent, drug related offenses — to raise awareness of the human rights surrounding those who, unlike themselves, are still incarcerated.