11 Photos Showing How Hilariously Unprepared Sochi is for the Olympics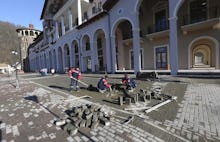 With the 2014 Olympic Winter Games in Sochi drawing closer and closer, journalists and fans have started arriving in the city — for some, the reception has been ... interesting. Their experiences, pictures and observations have spawned a hashtag (#SochiProblems) and even a handle (@SochiProblems). Unfortunately, quite a bit of it isn't pretty.
According to Olympic organizers, only six of the nine media hotels are ready, and the rooms that are available are in rough shape. The journalists that are able to get at least somewhat situated have been staying true to themselves and reporting whatever's available and newsworthy. In this case, it's the "unique" experiences they've been having so far in Sochi. Take a look: 
1. Things didn't start too well
2. But the rooms are getting better
3. The culinary choices are ... interesting
4. There are certainly some journalistic obstacles
5. Checking into your room is never easy
6. At least there's a gym
7. There may or may not be animals everywhere
"give it a few hours"
8. And they kind of addressed the handicap issue
9. Some things may be lost in translation
10. But when is enough enough?
11. Because it's not all bad