George Zimmerman Will Fight DMX in a Boxing Match — Yes You Read That Correctly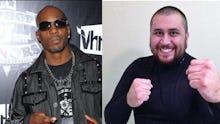 Update (2/9/2014): The boxing match between DMX and George Zimmerman has been cancelled, its promoter said on Saturday, after threats were made against him.
You can't simmer the Zimmer!
Ever since becoming an international celebrity for shooting and killing a 17-year-old black teenager named Trayvon Martin under disputed circumstances in Sanford, Florida, Zimmerman has been having a wild ride. He's helped save a family from a car crash, toured gun factories, allegedly assaulted his ex-wife's father, maybe pointed a shotgun at his current girlfriend, and become a successful artist on eBay. Now he's going to fight rapper DMX in an three-round, pay-per-view fight on national TV.
According to celebrity boxing owner Damon Feldman, whose claim to fame is putting up bizarre boxing matches, he's been swamped with applications since announcing the fight. Apparently, over 15,000 Americans want a chance to punch Zimmerman in the face.
But no one wants to kick Zimmerman's ass more than DMX. DMX has promised to wipe the smug smile off the accused murderer's face. Specifically, he told TMZ that "I am going to beat the living f**k out him … I am breaking every rule in boxing to make sure I f**k him."
He also said he'd urinate on his opponent's face if he won.
We'll have to see whether DMX can put his fist where Zimmerman's mouth is. DMX is 43 and doesn't exactly seem to be at the peak of his career or mental health. Zimmerman is a cool 30 and has been training for quite some time.
"Prior to the incident I was actually going to the gym for weight loss and doing boxing-type training for weight loss and a mutual friend put me in contact with Damon and provided me with an opportunity and motivation to get back in shape and continue with my weight loss goals and also be able to help a charity out," Zimmerman told Radar Online. "Boxing isn't new to me."
"It's something I had picked up well before the incident and it's something that I liked, I enjoyed, and I kept up with it and I was able to lose a tremendous amount of weight and get a healthy lifestyle."
Zimmerman's original ideal opponent was Kanye West, while he turned down a challenge from rapper The Game, perhaps because he's 34 and used to be a drug dealer who survived being shot five times. The Game also has a tattoo of Trayvon Martin on his legs, which might bring the whole thing a little too close to home.
Chelsea Lately writer Ian Karmel has an idea of how DMX can still defeat Zimmerman:
Whoever goes after the Zimmer better watch out. We all know what happened the last time the dude got in a fistfight.