18 Companies That Are Doing Good While Doing Well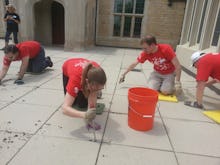 In today's increasingly interconnected world, it's no longer only necessary to connect with your VCs and investors. You must also connect with your employees and consumers.
To become one of the "good guys," many companies are focusing on company culture and investing in innovation and sustainable business practices to better the world.
International think tank Ethisphere Institute recently published a list of the most ethical companies in the world, culled from nominations and chosen based on a comprehensive investigation of a company's culture and practices. 
Once you're a do-gooder, consumers will take note. As it turns out, many of the most ethical companies also rake in some serious revenue. Once you stop focusing on only making money, you might make some money. 
After looking over the list, we decided to do some
This is not a ranking and all companies listed are equal winners.
1. American Express
2012: $33.8 billion
2013: $34.9 billion
+3.3% growth
In an industry fraught with ethical peril, American Express has carved
In 2012, the company also donated $26.8 million to causes supporting leadership, historic preservation, and overall community service.
2. Cisco Systems
2012: $46.1 billion
2013: $48.6 billion
+5.4% growth
A staunch corporate governance policy is the cornerstone of Cisco's listed company values — according to its website "any success that is not achieved ethically is no success at all." Additionally, Cisco's Impactx, is a CSR movement that aims to leverage its tech and network assets across the areas of education, healthcare, and the environment to generate exponential impact.
So far Cisco has provided technology-related jobs to 2000 disadvantaged youth in Asia and Africa as well as introduced telemedicine and specialty care to places that previously lacked access to such resources.
3. Colgate-Palmolive
2012: $17.1 billion
2013: $17.4 billion
+1.8% growth
Colgate-Palmolive offers a 24/7 EthicsLine through which employees can call to discuss the company's ethics policy and its applications as well as report potential violations anonymously or by name.
In 2013, the company was also named to Interbrands' 50 Best Global Green Brands list for its commitment to sustainability and Forbe's Most Admired Companies list for its leadership in people management and use of corporate assets.
4. eBay
2012: $14.0 billion
2013: $16.0 billion
+14.3% growth
In 2011, President and CEO of eBay John Donahoe said, "eBay was
Along with gaining customer trust, the company's platforms, including eBay and PayPal, are centered on empowering businesses of any size to succeed in the marketplace.
5. Ford Motor Company
2012: $134.3 billion
2013: $146.9 billion
+9.4% growth
Ford has been a leader in championing sustainable vehicles with the
Along with its improvements to products and operations, Ford also actively adheres to a mantra espoused by Henry Ford in 1903, "A business that makes nothing but money is a poor business," promoting grants and programs that support safe driving practices, education, and the arts.
6. Gap Inc.
2012: $14.5 billion
2013: $15.7 billion
+8.3% growth
With the intent to "do more than sell clothes," advocated by founders Doris and Don Fisher, Gap is actively reducing greenhouse gas emissions across its supply chain and stores, promoting female garment workers to management positions through its P.A.C.E. program, and partnering with governments and other international organizations to improve factory work environments and safety in seven countries including Cambodia and Indonesia.
7. General Electric
2012: $144.9 billion
2013: $146.0 billion
+0.8% growth
In addition to an integrity policy called The Spirit & The Letter, GE has its employees demonstrate a commitment to ethics by signing a pledge when they join the company. Its volunteerism programs and community service grants ($219 million in 2012) are further underscored by a broader company mission to improve the world with GE's clean energy and water solutions, among many other
8. Honeywell
2012: $37.7 billion
2013: $39.1 billion
+3.7% growth
Honeywell's products solve key problems in everything from transportation to aerospace to material design including technologies that can reduce emissions and stop bullets.
With the development of any new product, employees are required to monitor the eco-friendliness of every step in production and distribution.
9. Mattel
2012: $6.4 billion
2013: $6.5 billion
+1.6% growth
Given the impressionable age of many of its core customers, Mattel maintains that one of its key values is to "play fair" and ultimately create products that are fun and entertaining, but also safe.
10. Microsoft
2012: $73.8 billion
2013: $77.7 billion
+5.3% growth
Still among one of the few tech giants on the list, Microsoft has been championing corporate citizenship since the early 2000's following the anti-trust trial debacles, according to Business Insider. These efforts have included robust donations to different causes, and internal policy changes.
11. Salesforce.com
2012: $2.3 billion
2013: $3.1 billion
+34.8% growth
As a leading cloud services provider, Salesforce is committed to promoting the energy efficiencies its product inherently embodies. It is also a leader philanthropically, with a foundation built the application of its services and employee skills to technological needs of nonprofits and community organizations.
12. Sherwin-Williams
2012: $9.5 billion
2013: $10.2 billion
+7.4% growth
Given the omnipresence of its product in buildings everywhere, Sherwin-Williams has transformed many of its paint offerings to accommodate sustainable LEED certification standards and serve as eco-friendly alternatives to existing paint options.
13. Starbucks
2012: $13.3 billion
2013: $14.9 billion
+12% growth
From ethical sourcing to positively impacting the communities that are home to its stores, Starbucks aims to connect with the farmers and people helping to produce and enjoy its products. With Farm Support Centers that assist farmers with the management of their businesses and a new Community Store concept in which a portion of proceeds from a store go directly to a nonprofit in that town, Starbucks demonstrates the power of its global scale on a local level.
14. Target
2012: $69.9 billion
2013: $73.3. billion
+4.9% growth
Through its 5% giving back program, established in 1946, Target donates 5% of its income to community grants and programs, which equals more than $4 million a week, today. Arne Duncan, the U.S. Secretary of Education has even said, "Target has been a great
15. Progressive
2012: $16.0 billion
2013: $17.1 billion
+6.9%
Operating in one of the most dubious ethical fields, Progressive aims to stand out by providing transparency on its business and adhering to a bedrock of powerful core values. In 2003, the insurance company was the first public company to report its financials on a monthly basis instead of the standard, quarterly one.
16. UPS
2012: $54.1 billion
2013: $55.4 billion
+2.4%
Named in 2013, to "The Civic 50," list aggregated by Bloomberg, Points of Light, and the National Conference on Citizenship, UPS was honored as one of the most community-minded companies in the country. The delivery giant has been lauded by the U.S Chamber of Commerce for applying its core competencies in shipping and logistics to help insure road safety and disaster relief for veterans.
17. Visa
2012: $10.4 billion
2013: $11.8 billion
+13.5%
Every November is Visa's Global Volunteer Month, a time for the company's employees to go out and dedicate time to causes they are passionate about in their communities. On a global level, Visa is also active in providing humanitarian aid during times of natural disasters and emergency need around the world.
18. Whole Foods
2012: $11.7 billion
2013: $12.9 billion
+10.3%
Possibly viewed as one of the most vocally ethical companies on the list, Whole Foods has established its brand around offering products sourced responsibly, humanely, and organically. It continues to spread the message on healthy food and healthy living through microfinance programs that support farmers and community initiatives that bring natural foods into towns and cities.