6 Celebrities Have Taken a Stand on Whether to Boycott Israel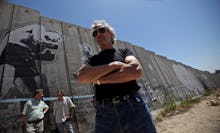 Since its inception, Boycott, Divestment and Sanctions (BDS), a pro-Palestine group that aims to influence the public to shun Israel in various political and economic ways, has made its presence on college campuses around the U.S. In December, the American Studies Association voted that its membership participate in a boycott of all Israeli academic institutions. These anti-Israel boycotts have been viewed as controversial in many states, most notably in New York, causing the New York State Assembly to consider legislation to cut public funding to any educational institution that supports an Israeli boycott.
By now, everyone is aware of the international media firestorm surrounding Scarlett Johansson's Super Bowl ad for Sodastream — the Israeli company that makes at-home fizzy drink appliances whose headquarters lie in the occupied West Bank.
Johansson's decision to keep her endorsement deal with the beverage company meant severing ties with Oxfam International, where she was a global celebrity ambassador. In a statement, Johansson's spokesperson said the actress and Oxfam have a "fundamental difference of opinion in regards to the Boycott, Divestment and Sanctions movement." While Oxfam has never publicly come out in support of BDS, they are against those who do business on settlements.
According to BDS, it calls on the public to boycott products and companies, target corporations complicit in the violation of Palestinian rights and impose sanctions on Israel.
While the ScarJo incident proved to be one of the most successful BDS campaigns, the actress is just one of a slew of A-listers targeted by the group for their decision to visit Israel or become involved with Israeli companies. Past celebrity campaigns have proved to both draw attention and bring an element of sensationalism to the BDS movement. While many public figures have ignored the pleas from pro-boycott groups, others have supported them vehemently.
More often than not, entertainers tend to side with the "universal power of music" over getting caught up in a heated political debate. So far, BDS campaigns have been shot down by artists like Justin Timberlake, Cyndi Lauper and Julio Iglesias, all of whom have booked summer 2014 concerts in Israel. However, seeing the rapid escalation the BDS movement has brought to Scarlett Johansson and Sodastream, it wouldn't be surprising if these stalled campaigns gain traction in the future.
Here are some wins and losses for the BDS campaign:
BDS win: Roger Waters
Roger Waters, the bassist and a lyricist for Pink Floyd, is among BDS's first and strongest celebrity supporters. In an open letter last August, he asked his fellow musicians to follow in his footsteps.
"Please join me and all our brothers and sisters in global civil society in proclaiming our rejection of Apartheid in Israel and occupied Palestine, by pledging not to perform or exhibit in Israel or accept any award or funding from any institution linked to the government of Israel, until such time as Israel complies with international law and universal principles of human rights," he wrote.
BDS loss: Alicia Keys
This past July, Alicia Keys brought her world tour to Tel Aviv, despite calls from BDS to cancel her concert in protest of Israel's politics. Pulitzer Prize-winning author and BDS supporter Alice Walker wrote an open letter to Keys in which she said the singer was putting herself in "soul danger" by performing in "an apartheid country" being boycotted by many globally conscious artists.
Keys decided to perform anyway. She told the New York Times, "I look forward to my first visit to Israel. Music is a universal language that is meant to unify audiences in peace and love, and that is the spirit of our show."
BDS loss: Ozzy Osbourne
The Prince of Darkness let his wife do the talking when it came to defending the musician's choice to perform in the country despite a BDS campaign. At a press conference in Israel, Sharon Osbourne told reporters, "Music goes beyond politics because it is the international language of the world. I could not be more excited or proud about bringing Ozzfest to Israel for the first time."
BDS Win: Stephen Hawking
Certainly a great boon for BDS was getting the most prominent living scientist to cancel his appearance at Israel's highly publicized Presidential Conference last summer in support of the boycott movement. BDS activist Sami Hermez told Al Jazeera that persuading Stephen Hawking to cancel his gig was a "fantastic move, a sort of watershed moment." Those who chose to travel to Israel in support of the conference included Robert De Niro, Sharon Stone and Barbra Streisand.
BDS loss (sort of): Margaret Atwood
In 2010, literary giant Margaret Atwood refused to heed a call from BDS to forgo the Dan David Prize for Literature in Israel. But after her trip to Israel to accept the award, she wrote an article for Haaretz where she came out in support of a two-state solution and applauded the pro-boycott movement on college campuses. She said, "Campus activity is increasing; many young Jewish Americans don't want Israel speaking for them."
BDS win: Meg Ryan
The When Harry Met Sally star dropped out of her appearance at the Jerusalem Film Festival in 2010 amid international outcry over Israel's attack on a Turkish-led flotilla. At the time, it was believed actor Dustin Hoffman backed out of the festival for the same reason, though he denied ever having involvement with an anti-Israel campaign.