How This 20-Something Ended Up In Mozambique Just 6 Days After Getting Fired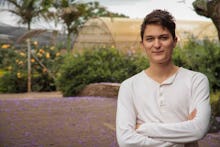 In September, I was fired from my job.
Being fired is a harrowing experience. It's blindsiding. It's something that doesn't happen to you. It's like your parents getting divorced, or winning the lottery. These things happen to other people.
I grasped for solace in each of the hundreds of articles assuring you that being fired will be the best thing that's ever happened in your life. I brazenly convinced myself that it was for the best. But, sometimes, it's not enough to bury yourself in an inspirational tomb of TED talks and Mitch Albom novels.
The day I was fired, as I packed my belongings while dodging glances from now former coworkers, it didn't feel like the beginning of the rest of my life, as Steve Jobs once assured a roomful of young graduates detailing his termination from Apple:
"I didn't see it then, but it turned out that getting fired from Apple was the best thing that could have ever happened to me," he said at Stanford University in 2005.
Like many millennials, I'd put in my due diligence in New York City. In college, I'd worked my two internships in the city and become completely addicted. I thrived off the pace of New York, the scope of the horizon, and the opportunities laid ahead. I was infatuated. So, when I moved, at the age of 21, into a studio in downtown Manhattan complete with slanted floors and a cockroach problem, there was no place I'd rather have been.
Over the next two years, I enjoyed the long hours, the stress and the insanity of working in Manhattan. However, I couldn't help but feel dauntingly replaceable.  
It's a strange realization, after completing your undergraduate degree and jumping into the workforce, that, in many cases, the entry-level positions you vie so hard for can require very little of your education.
This feeling is becoming prevalent for recent college grads. Today's millennials are underpaid and over-educated at a rate much higher than ever before. A study released by the New York Federal Reserve in January said:
The percentage [of recent college graduates] who are unemployed or "underemployed" — working in a job that typically does not require a bachelor's degree — has risen, particularly since the 2001 recession. Moreover, the quality of the jobs held by the underemployed has declined, with today's recent graduates increasingly accepting low-wage jobs or working part-time.
After my termination, I realized I had a few choices. One option was to immediately begin looking for another job, rush into a position that would barely pay my bills — all to one day realize I'd never lived up to my full potential. Many choose this option, never digging in deep enough to know what they really want out of a career.
This could be the reason behind why 91% of Gen-Y workers expect that they will leave their jobs in less than three years, according to a study published by Future Workplace.
Instead of choosing this option, I decided to wait. In the period that followed my termination, I was able to pinpoint the things that made me happy, not only in the workplace, but in my life as a whole. I realized that I didn't want to feel replaceable any longer. I wanted to be able to utilize my strengths and education to help solve longstanding problems. I wanted to see the results of my efforts in a more palpable way.  
My patience paid off and I was ultimately offered a position in communications in Mozambique. I had found my dream role. I realized that the harrowing experience of getting fired was the impetus for finding what made me happy. Had I not been fired, I would have never found the confidence to switch industries, start again at square one, and chase a new dream.
Within the culture of development, I found a niche that made me feel more complete. Being in the developing world, the work I found myself doing was not only constructive, but essential, and I no longer felt the gloom of daunting replaceability. Although in my new role, I still found myself scraping by to pay my bills, I was at least following a path towards something that made me feel utilized and happy. The opportunities seemed endless, but in a new, more hands-on way.
When it comes to our careers, young people often jump at the first opportunity when, instead, we should be deciding if the role will makes us happy, complete and useful. In today's hyper fast-paced and unprecedented job market, being forced back to square one doesn't have to be a death sentence. It can be the chance to take a breath, redefine your happiness and start again fresh.