13 Inspiring Young Entrepreneurs Are Rebuilding the City of Detroit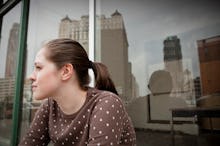 It's no secret that Detroit has seen better days. But as good news trickles into the city, there's hope that it might soon return to its former glory. Chief among the reasons to believe in Detroit is its growing number of young entrepreneurs and small business owners who have manged to thrive despite the city's economic headwinds. 
Meet some of the success stories that are keeping the hope of an urban Renaissance alive. Here are some young up-and-comers revving up the Motor City:
Emily Thornhill, founder of Homeslice
The environmentally-conscious women's clothing label Homeslice got its start in 2011, after Detroit local Emily Thornhill received an AFA in Fashion Design and spent four years at grassroots label Femilia. Homeslice strives to combine suburban comfort with urban freshness and chicness, with influences from modern art and street cultures worldwide. All of Homeslice's fabric comes from the U.S. and every design is made at the firm's headquarters in Detroit.
Kimo Frederiksen, owner of True Body Fitness
Located in a Corktown loft, True Body Fitness aspires to be more than just a gym. The fitness studio offers a variety of services, including metabolic testing, which measures oxygen input for optimal cardio training. The studio's blog offers motivational advice and touts visitors who win one of the company's regular fitness challenges. 
Jay Rayford, founder of Social Sushi
Social Sushi identifies itself as a catering company for networking and fundraising events. "We kept seeing people posting about eating and enjoying great sushi, but they were great people who didn't know each other yet," Jay Radford told UIX Detroit. Radford currently hosts around four events monthly and hopes to expand his operation to incorporate other Detroit entrepreneurs, artists and startups.
Sheri Crawley, founder of Pretty Brown Girl
Sheri Crawley founded Pretty Brown Girl in 2010 with the intent of combating damaging body image messages found in the media and pop culture. Crawley sells clothing, backpacks and other items with the words "Pretty Brown Girl" on them as a reminder to her children and clients that having dark skin is a desirable trait. "I wanted to send a positive message to them," Crawley told BLAC Detroit. 
Bob Marsh, founder of LevelEleven
In 2012, Bob Marsh developed LevelEleven, a tool designed to motivate sales employees, after a $1 million investment from Dan Gilbert's investment firm Detroit Venture Partners. Level Eleven integrates with sites like Salesforce.com to incentivize employees' work and boost overall sales. "Many people are motivated to help out because they love the story of Detroit and want to say they're part of it," he said to the Upstart Business Journal. 
Andrew and Ryan Landau, co-Founders of Chalkfly 
Brothers Andrew and Ryan Landau founded Chalkfly, an office and school supply e-commerce site, with an eye towards giving back to their community. The company has already hired 10 employees and considers customer service a central tenet of its business strategy. Additionally, Chalkfly donates 5% of every sale to teachers. 
Victor Nemirovsky, software developer of iRule
Mobile software company iRule took off in 2011, when Victor Nemirovsky and engineer Itai Ben-Gal quit their jobs to create universal remotes for mobile devices like iPhones and tablets. The company received a $1 million cash infusion from Detroit Venture Partners in early 2013 and has products in over 12,000 homes and businesses. Currently, iRule has 269 dealers in 49 countries.
Veronika Scott, founder of The Empowerment Plan
As a student at Detroit's The College for Creative Studies, Veronika Scott envisioned a coat that is designed to keep its user warm, and that could also be used as a sleeping bag for the city's homeless. That vision was realized with The Empowerment Project, a non-profit Scott started to manufacture and distribute her life-improving outerwear. Despite subsisting off individual and institutional donations, Scott distributed roughly 4,000 coats last year.
Henry Balanon, founder of The Glass Card/Protean
What if you could combine all of your credit cards into a single piece of glass? This sci-fi idea became reality when Henry Balanon founded The Glass Company, which hopes to manufacture an electronic glass card that can selectively act as any one of your credit or debit cards. Now called "Echo," the forthcoming device aspires to transform payment. Balanon is currently fundraising to develop and release Echo, "the only card you'll ever need."
Jay Gierak, co-founder of Stik
Jay Gierak is half of the brainpower behind professional review/referral site Stik, which he founded with Nathan Labenz in 2012. Both Detroit natives, the pair of Harvard graduates returned to the Motor City with some wooing from venture capitalist Dan Gilbert. Using social media sites like Facebook, Stik pairs up consumers with contractors, doctors and other professionals à la Angie's List. 
Hajj Flemings, founder of Gokit
Entrepreneur Hajj Flemings has been interested in technology since high school. His latest website, Gokit, helps users create and develop a personal brand by synthesizing social media websites into one cohesive profile. "It's so cliché, but I literally launched my startup on a napkin at South by Southwest," Fleming told CNN. Gokit is currently in its beta development phase as the company seeks investors and works out user interface kinks.
Amy Kaherl, director of Detroit SOUP
Detroit SOUP, a microgranting company founded in 2010, hosts a monthly dinner that not only feeds participants but gives them a hand in getting their business ideas off the ground. Diners pay $5 each to eat and pitch their ideas, with the best idea receiving all of the proceeds from food and drink sales that night. This amount often ranges between $900 and $2000. As of January 2014, Detroit SOUP has donated over $55,000 to community projects and businesses in Detroit.