These 9 African-Americans Are the Biggest Trailblazers in Tech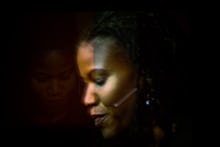 The tech industry is often criticized for its lack of diversity. And although there's still a wide and persistent race and gender gap in tech, amazing underrepresented talent does exist in this sector.
Who are the trailblazers making a name for themselves in the technological age? Below are nine African-American innovators who have more than just "arrived" in their industry — they own it.
1. Ime Archibong
As Manager of Strategic Partnerships for Facebook, Ime Archibong is in charge of Facebook's music and video strategies, fostering and managing key relationships with companies like Netflix, Hulu and Spotify.
2. Majora Carter
In 2012, StartUp Box #SouthBronx launched as a tech education and entrepreneurship project.  By hiring inner-city young adults with little access to the tech industry, StartUp Box leverages and augments their skills to provide a value added service to clients. 
Carter is a Peabody Award winning broadcaster, MacArthur "genius" Fellow, and was voted Fast Company's Most Creative People in Business 1000, Goldman Sach's 100 Most Intriguing Entrepreneurs, and her TEDtalk was one of the the first six to launch on the popular website.
3. Kathryn Finney
Honored as one of 11 of the White House's "Champion of Change for Tech Inclusion," Kathryn Finney is the founder and managing director of digitalundivided, "a social enterprise that develops programs that increase the active participation of urban communities, especially women, in the digital space."
In addition, Finney is an editor-at-large of the popular site BlogHer.
4. Corvida Raven
Corvida Raven was recently named one of Essence magazine's Top 25 Black Women Entrepreneurs and Power Players, featured on thegrio's 100 in 2012 and recognized by FastCompany as one of 50 Most Influential Women in Tech. The founder of SheGeeks.net and A Third Place™, Raven now leverages her relationships in tech – from corporations likeGeneral Motors, Fast Company, Intel, TED, all the way up to the White House – to impact the places and communities she comes from. She's also barely in her mid-20s.
5. David Drummond
Heavy-hitter David Drummond is the senior vice president of corporate development and as chief legal officer for Google. After joining the brand in its early days, Drummond helped raise Google's startup funds. Today, his work entails representing Google in legal battles against antitrust regulators in Europe.
6. Stacy Spikes
Stacy Spikes is the reason why many of us can watch movies that are still playing in theaters in our own homes.
Before he was the co-founder of MoviePass, Spikes founded the Urban Film Festival, which "has premiered more #1 films than any other North American Film Festival, including Sundance and Tribeca." 
7. Tina Wells
Tina Wells is the CEO and founder of Buzz Marketing Group, which assists companies in reading and gauging the youth market.
Named one of Essence magazine's Top 25 Female Entrepreneurs, Wells' honors also extend to Billboard's "30 Under 30" and Essence's "40 Under 40," as well as Inc. Magazine's "Coolest Young Entrepreneurs."
8. Malik Ducard
With Malik Ducard's talent and business savvy, Youtube has quickly ascended the hierarchy of the Internet.
Under Ducard's leadership, YouTube launched YouTube Live, offered movie rentals from Paramount Pictures, and partnered with ABC News, Al Jazeera English, BuzzFeed and other news organizations for presidential election coverage back in 2012.
9. Kimberly Bryant
Sticking it to Larry Summers, Kimberly Bryant is showing the world that young black girls not only love, but excel in science and tech. In 2011, Bryant founded BlackGirlsCode, a six-week program that offers "young and pre-teen girls of color opportunities to learn in-demand skills in technology and computer programming at a time when they are naturally thinking about what they want to be when they grow up."
Aiming to reach 1 million girls by 2040, Bryant's acheivements were acknowledged when she was named one of 11 of the White House's "Champion of Change for Tech Inclusion" in July.