The 10 Most-Anticipated Book-to-Movie Adaptations of 2014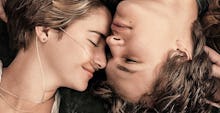 They say imitation is the highest form of flattery — and yet, we all know book-to-movie mimicry can go pretty far awry (here's looking at you, Gatsby). 2014 is shaping up to be the year of the adaptation, with silver-screen iterations slated from summer blockbusters to award season heavyweights. Here, are the book-to-movie adaptations with the most well-deserved buzz:
1. 'A Long Way Down' (March 21)
This 2005 novel by Nick Hornby — although typically charming and earnest — fell short of his greater works (About a Boy and High Fidelity). Look for Aaron Paul ("yeah, b*tch!") and Toni Collette (who starred in the film adaptation of About a Boy) to breathe life into characters who lacked depth on the page.
2. 'Divergent' (March 21)
The first book in Veronica Roth's dystopian trilogy is also the strongest: The plot is tight, the protagonist close and the world of "Factions" clear. Kate Winslet seems miscast as the sinister-but-complicated Jeanine Matthews — but Shailene Woodley is exactly right for the vulnerable, impulsive Tris Prior.
3. 'Serena' (April)
Image Credit: IMDb
Ron Rash's 2008 novel was deemed by the Guardian the O. Henry Prize winner's "most accomplished book," and in just a few months it'll be a movie startting Bradley Cooper and Jennifer Lawrence. Cooper and Lawrence seem to be getting better the more they work together — and Lawrence has a knack for playing the barely-hinged heroine.  
4. 'The Fault in Our Stars' (June 6)
A devoted "TFIOS" fan base has already bemoaned Shailene Woodley being cast as Hazel Lancaster, a 16-year-old with metastasized thyroid cancer — while Woodley herself voiced disapproval at the movie's "One Sick Love Story" tagline. Still, John Green's 2012 book — heralded as "melancholy, sweet, philosophical and funny" by the New York Times — lends a strong base. 
5. 'The Giver' (August 14)
Image Credit: Amazon
Although the film version of Lois Lowry's 1993 novel stars Jeff Bridges and Meryl Streep and is directed by David Yates (who deftly navigated several also-tricky Harry Potter adaptations), there is a subtlety to the text that may be inimitable. Much of the darker parts of Lowry's dystopia operate off-page or without much elaboration (systematic birth control to manage "Stirrings"; regimented "birth mothers"; organized euthanasia) — nonetheless, the books is in good hands. 
6. 'The Maze Runner' (Sept. 19)
James Dashner's young adult dystopia stands out for its fully-formed world (where memories are systematically erased) and unrelenting suspense reigns. Nevertheless, the trilogy lacks the character development present in other members of the genre — a problem likely alleviated by the energy of the silver screen (and keep an eye out for Patricia Clarkson's iteration of Chancellor Ava Paige).
7. 'Gone Girl' (Oct. 3)
Image Credit: Amazon
The book that brought mystery into both the literary realm and the modern commercial mainstream, Gillian Flynn's 2012 novel is not only contemplative in its treatment of marital malaise, but fully-imagined, layered and taut. Luckily David Fincher is directing (The Social Network, The Girl with the Dragon Tattoo) and he's definitely the right man for the job. 
8. 'The Hunger Games: Mockingjay (Part I)' (Nov. 21)
Image Credit: IMDb
While splitting the final text in Suzanne Collin's The Hunger Games trilogy seems an overtly financial studio decision with potential storytelling risks, Jennifer Lawrence's Katniss Everdeen is the kind of lead who can carry a story (and 12 districts) — and steal the show. 
9. 'Unbroken' (Dec. 25)
Image Credit: IMDb
Laura Hillenbrand's 2010 biography of Louis — an Olympic runner and prisoner of war — combines the author's scientific attention to detail with her trademark knack for storytelling. And yet, if Seabiscuit is any indicator, we can expect an all-star production team (Joel and Ethan Coen co-authored the script, while Angelina Jolie directed) to bring pace and focus to Hillenbrand's 500-page tome.
10. 'Wild' (Date TBD)
Image Credit: IMDb
Cheryl Strayed's 2012 memoir is the anti-Eat, Pray, Love. Although also a narrative of exploration and self-discovery, Strayed's story has a kind of thoughtfulness Gilbert's lacks — a quality that will be difficult to translate on-screen.