2 Charts Show the Jobs With the Highest Payoff. Did You Choose the Right Career?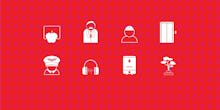 They say time is money. And, quite literally, it is. Whenever you're not using your time wisely, you're wasting it on not doing what you could be.
That's why it's advisable for young people to think critically about how many years it will take to get to your dream job. This means figuring out the amount of schooling, training and work experience required to get that job. Then, compare this number to a realistic salary and decide if all those years are worth it.
Some professions require several years of preparation, yet pay too little to justify the investment of your time. 
Other jobs require little education and training, but offer higher pay. This career path would makes the most sense.
To find out exactly what these two groups of jobs are, Laurence Shatkin, Ph.D., data information expert and author of the forthcoming book Your Guide to High-Paying Careers, added up the years of education and training each job requires, which is measured in "unit points."
For each unit of time, Shatkin considers the necessary training (none, short-term, moderate-term, long-term and internship/residency) and required work experience (none, less than one year, one-to-five years and more than five years) to get this type of job. Each level of training or work experience needed counts as one unit of time. As for education, each level counts as two units of time because education is "purely an outlay," according to Shatkin. This means you earn nothing while going to school.
Shatkin then takes the median earnings for each job, provided by the Bureau of Labor Statistics, and divides this number by the total unit points each job requires.
The result is what he calls the "earnings preparation balance," or the dollar payoff you can expect for each unit of preparation. In short, how much is your timeworth, based on the salary that you're paid?
According to Shatkin, the top-ranking job is an elevator installer because the dollar payoff is $25,550 per unit of time spent. Other professions that make this list are administrative service managers ($20,270 per unit of time), boilermakers ($18,853 per unit of time) and commercial pilots ($18,320 per unit of time).
Below is a chart of the best jobs, based on time spent and salary, according to Shatkin:
On the other hand, psychologist is the job that pays you the least for your time with a $3,758 payoff for each unit. Aside from postsecondary teachers, who make up the majority of the list, other professions on this list include landscape architects ($4,484 per unit of time), chiropractors ($4,726 per unit of time) and audiologists ($4,980).
Below is the full list provided by Shatkin:
Although this list allows prompts comparisons between occupations, it should be considered a rough measure since actual earnings vary from one job to another, as does preparation employers require before hiring.
Most importantly, the list is solely focused on the numbers. It doesn't account for people's personal rationale when choosing a career path. 
"Some people get great enjoyment from the learning that they experience during the preparation process, and these occupations have many rewards beyond the paycheck," said Shatkin. "If you're the kind of person who gets satisfaction from helping other people or from working in an educational setting, one of these career goals might be perfect for you."