Here's How Philip Seymour Hoffman's Scenes Will Be Replaced in 'The Hunger Games'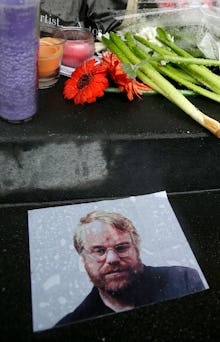 This past Sunday, legendary American actor Philip Seymour Hoffman was tragically lost to an apparent drug overdose in his Greenwich Village apartment. He was 46 years old.
His loss is already being felt on the set of The Hunger Games: Mockingjay, Part 2, the final movie in the Hunger Games series based on the books by Suzanne Collins. Hoffman played Plutarch Heavensbee in previous movies in the series and was cast in subsequent films in the same role. This week, stars Jennifer Lawrence, Liam Hemsworth, and Julianne Moore were somber in photos on their return to the set.
A source close to the production told the New York Daily News that Hoffman's scenes in Mockingjay, Part 1, which is scheduled to debut on Nov. 21, 2014, had already been filmed before the actor's untimely demise. Unfortunately for the production, he had seven days' worth of filming left to complete in the final movie.
But Lionsgate, the production company behind the films, says that Hoffman's death will have "no impact" on the final film and that the two movies will be released on time. Instead, any scenes where Hoffman is needed will be recreated using CGI effects, though not necessarily any ones where he should have been viewed facing the camera.
According to Hollywood effects supervisor Rob Legato, "These days the technology of using someone's likeness is a whole lot easier to do. I won't say you could generate a Philip Seymour Hoffman with all the acting ability, but you could certainly replicate him for a shot or two."
A Lionsgate executive said, "We're all extraordinarily sad. But as it relates to production, it's going to have no impact. Obviously, we're going to have a couple of work-around issues but the movie will be creatively whole. His performances in both [remaining] movies will be up to the best of his craft. We feel it will be a good tribute to him."
According to The Hollywood Reporter, however, one major scene featuring Hoffman remains to be filmed and the production company isn't entirely sure how to work around it using technology.