US Diplomat Sick of Politics as Usual Nails It in This Leaked Audio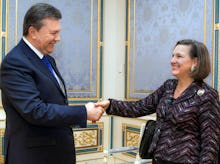 It's a private phone call turned into an international whodunit, like a scene ripped straight out of In the Loop. The nonstop finger-pointing began as soon as an unflattering State Department recording leaked online this week, and the in-fighting has offered a hilarious yet useful glimpse of how international politics actually work.
The leaked phone call certainly is a moment of professional embarrassment for Victoria Nuland, the top State Department official for European and Eurasian Affairs. After being caught saying, "Fuck the EU," the ashamed diplomat "has been in contact with her EU counterparts and of course has apologised for these reported comments." But German Chancellor Angela Merkel is already furious, and there are talks of repercussions on the EU-U.S. effort on resolving the conflict in Ukraine.
But while cursing a foreign country or a union is definitely a diplomatic faux pas, Nuland does have cause for frustration. In the phone call, she discusses the EU's non-proactive stance on Ukraine with Geoffrey Pyatt, the U.S. ambassador to Ukraine. Despite the rising violence and instability in Ukraine, the EU has refused to impose sanctions on the country, and has stalled plans for a joint financial package with the U.S. The noncommittal stance has furthered the tug-of-war between Russia and the West over Ukraine's loyalty, while tens of thousands of protesters have violently clashed with government forces.
You can listen to the audio below:
There is also the question of who leaked the audio in the first place. The State Department has suggested that the Russians might be involved, and so has the White House. "I would say that since the video was first noted and tweeted out by the Russian government, I think it says something about Russia's role," White House Press Secretary Jay Carney said.
While it might be a cheap shot to blame another country for one's own fumble, if it's revealed that Russia was indeed behind the leak, that would have far more potential impact on the ongoing conflict in Ukraine than a curse word from a lone diplomat ever could. (Not that the U.S. has any moral high ground when it comes to spying on allies, of course.)
Still, the most useful thing to take away from this episode is that diplomats are just like us: they have to deal with infuriating office politics and uncooperative jerks, and sometimes they share their exasperation with their friends and colleagues. It's just that when you have an international profile, someone might be listening to your private calls and leaking them online.
This leaked candid exchange shows us that behind the sugar-coated words, diplomacy is real people doing the frustrating work of getting countries to cooperate. And for that, Nuland should be applauded.
For a slightly more dramatic version of EU-U.S. relations, here is a Malcolm Tucker (Peter Capaldi) gem from In the Loop: