This Korean Woman Totally Kills It With Her Cover of "Let It Go" From 'Frozen'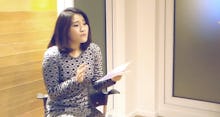 When the Frozen soundtrack ousted Beyoncé for the number one spot on the Billboard charts, it became clear that the movie's music was maybe a bigger deal than the movie itself. More proof? The proliferation of Youtube covers that have poured out from eager fans. The Internet is full to bursting with them, yet, we've finally found the best one yet: this cover of "Let It Go" from Korea's Sonnet Son.
The singer's full name is Son Seung Yeon and she's currently studying at Berklee School of Music in Boston. From the sound of this cover, it looks like her career is about to take off. While casually sitting in a folding chair, she manages the twists and turns of the powerful ballad with an uncanny ease. Idina Menzel has some steep competition in Sonnet's range and expressive vocal styling. Yeon's cover is currently going viral on Tumblr, as amazing things tend to do.
For those who don't know what the Frozen craze is all about, the film came out in November, and its soundtrack sale numbers have experienced a steadily meteoric rise. It's an animated film that recently won a Golden Globe and will soon head to Broadway in musical form. Basically, it is unstoppable.
As for Sonnet, her original music is also being praised, especially in her native Korea. Although she's being labeled as K-Pop, the "Let It Go" cover highlights how flexible her voice is in any context. She may be sitting down but her performance is fully engaged and passionate. If the reception of her cover is any indication, she won't be relegated to YouTube for long.