Watch: A First-Hand Look at Tearing Down a Slope at Sochi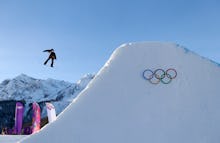 Ever wonder what it's like to compete in the winter Olympics? Here's your chance. This new video gives a unique glimpse (looks like a go-pro angle) of what it's like to speed down the slopes of Sochi — and it looks pretty damn fun.
This particular snowboarder makes it look effortless, coolly gliding over the rails and catching a little hang-time over the jumps as if were he was doing it in his sleep. But this is without a doubt no basic feat; to get to the point where this appears so casual takes years of experience, not to mention hundreds of times falling down and getting back up. These athletes have been training for a very long time.
Back in kindergarten, while most of us were probably content with just being able to walk around without stumbling over, athletes like Ryan Stassel, a 21-year-old from Anchorage who just made his Sochi debut, were already pushing their limits and hitting the snowy slopes.
And even after years of practice, sometimes the slopes can still be unnerving to the pros. After some consideration, snowboarding legend Shaun White decided to step down from competing in the newly added slopestyle competition due to worry about the "potential risk of injury." 
White's concern shows that despite how comfortable the winter games appear on camera, there is a large degree of complexity that goes into the slopes. Like Ryan Stassel, many of these athletes have been practicing most of their lives to get to this stage. But just imagine, if only you had picked up the sport when you were that young, perhaps you'd be in Sochi right now, too.