Watch: Pharrell's "Happy" is Going Viral in Tunisia, Inspiring Hope For Country's Future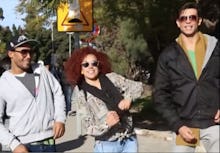 What started as a viral trend in Paris, has made its way around the globe – spreading in Hong Kong, Moscow, Amsterdam, and now various cities in Tunisia. 
In these videos, residents of these cities dance along to Pharrell Williams' hit single "Happy." 
The trend has really taken off in Tunisia, with users uploading videos from multiple cities across the country, including the capital Tunis, Bizerta, Souisse, and Kairouan. 
"This is because we're happy in spite of everything," said a woman called Fairouz, who supervised one of the first videos posted from Bizerta, a city in the north of Tunisia.
After popular protests toppled the regime of Zine El Abidine Ben Ali back in 2011, Tunisia has been facing a challenging road towards democracy, after years of autocracy and corruption.
A new constitution was approved in late January, signalling a big step and a ray of hope for the country. Of course, this is just the beginning for Tunisia, and it doesn't change the painful reality faced by many – particularly young people – including poverty and unemployment.
Even though young people are facing many difficulties, many are trying to stay positive, and that's the spirit that's caught in these videos. Try to watch without wanting to join in on the dancing: 
But not everyone is as happy about these videos. Conservative religious groups have been coming down hard on these youths, saying they shouldn't be dancing to this Western pop music. 
"This is debauchery and moral decay that can't continue," said Seif Bin Moussa, a 21-year-old student and member of a radical religious group. 
Others believe that given the country's circumstances, the videos are an excellent outlet for the Tunisian youth.
"Citizens were disappointed after the revolution because of the uncertain landscape and vague future, especially young people, who believe that nothing has changed in their condition," said 45-year-old teacher Mohamed Naceri. "This is one form of self-expression and an outlet so they don't explode. I personally prefer this to extremism and terrorism."
However, the "Happy" videos, while a nice diversion, are relative drops in the bucket, both in terms of the participants and the effect.
"I don't think that those young people represent more than 1% of Tunisia's youth," Houda Belti, 37, told Magharebia. "There are millions of marginalised young people in villages, rural areas and popular neighbourhoods who are not concerned with this in the first place, and this is really unfortunate. However, this doesn't mean that the movement is not nice and the idea good too."