The Mexican "Mariachi" Olympian IS the Most Interesting Man in the World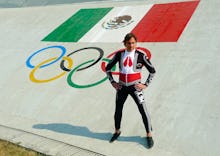 Forget the Dos Equis guy. He's just an actor hawking cheap beer. If you really want to meet the most interesting man in the world, shake hands with Hubertus von Hohenlohe, Mexico's indescribably awesome sole competitor in 2014's Sochi Olympics.
A 55-year-old slalom skier, von Hohenlohe is a German prince who is directly descended from Kaiser Franz II, the last emperor of the Holy Roman Empire. He is also an award-winning photographer who was friends with Andy Warhol, a pop star who sings in two bands, is heir to an automotive fortune, is fluent in five languages and is the second-oldest Olympian in history. Although the six-time Olympian has never won a medal, he wears rocking outfits on the slopes like the above mariachi costume or this awesome desperado outfit:
von Hohenlohe says he was born in Mexico specifically so that his family, which owns substantial stakes in Fiat, could do business under that country.
"In the beginning, I remember that I was considering racing for Liechtenstein because I have a Liechtenstein passport."
"In the end, it seemed ideal that I do it for a country where I could control my own moves," he told NBC.
"I hope Mexicans are proud to have someone at the Olympics and, through that, hopefully they get to know who I am." While von Hohenlohe has always made a splash as a celebrity, the best he's performed is 38th in the downhill event at the 1984 Sarajevo Olympics. He also founded the Mexican Ski Federation in 1981, and participates in the Olympics to keep the tradition of "exotic skiers" (those from a country unknown for winter sports) alive.
In the meantime, he's set eight records, including the 2013 track "Higher Than Mars":
The Mexican-themed outfits are his way of paying tribute to Mexico. In his interview with NBC, the prince said "I can understand how they would think that this rich prince bought himself into the Olympics so that he can show off his cool racing suits, or whatever. I am not hiding behind a pile of money to realize my dreams. I have Mexican roots."
And he's not afraid to take his hits.
"I was a bit crazy in Sarajevo, and a bit younger," von Hohenlohe said at Vancouver in 2010. "I didn't think anything can happen. Now I have three broken knees, one broken leg, one broken hand. People that have bad accidents, you have it in your mind so it's more difficult."
"When you're older you kind of don't take anything for granted. When you're young you think everything is going to go on like this, and then when you miss it you think, oh s---, I didn't live it enough. When you're old you live everything much more. You're inhaling the opening ceremony. You just have the feeling that it's more intense and you can savor the moment more."