While Sochi Was Hosting Opening Ceremonies, Here's What Was Happening Throughout Russia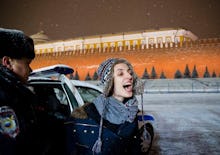 The news: The opening day of the Sochi 2014 Winter Olympics was also marked another salvo against Russia's gay community. While flags were being waved and athletes marched in Sochi, gay rights activists in St. Petersburg and Moscow were being detained and insulted by authorities.
Police have refused to comment on the detainment of 10 LGBT activists who waved rainbow flags and tried to sing a Russian anthem in Red Square as well as four protesters in St. Petersburg. The Russian LGBT community has been put under grave pressure both by widespread neo-Nazi violence against LGBT people and a harsh anti-gay law pushed by the Russian government which criminalizes even vocally supporting gay rights.
"The most alarming thing is, despite the international attention, the authorities are still bringing more charges under the law and it is being applied on a larger scale," said Human Rights First spokesman Shawn Gaylord.
Russian gay rights organization All Out condemned the arrests. "This outrageous move directly contradicts the IOC's assurance that Russian laws are in line with the Olympic Charter," executive director Andre Banks said.
Why you should care: As the festivities in Sochi move forward, Russian authorities might have chosen to ease up on silencing the pro-LGBT movement until the end of the Olympics. But the aggressive shutdown of even small-scale protests shows that the government simply will not tolerate opposition to the anti-gay laws despite the international spotlight.
UN Secretary-General Ban Ki-moon condemned the Russian law in a speech to International Olympic Committee members earlier this week, saying, "Many professional athletes, gay and straight, are speaking out against prejudice. We must all raise our voices against attacks on lesbian, gay, bisexual, transgender or intersex people. We must oppose the arrests, imprisonments and discriminatory restrictions they face."
Meanwhile, Human Rights Watch released this disturbing compilation of attacks on Russian gays before the opening ceremonies, saying that the harsh laws encourage neo-Nazis and fascists to physically torment LGBT people in real life.
Warning: The video below is disturbing.
"These are fascists who have chosen the easiest prey, which are gay people. And they don't even need to hide it any more," said chairman Igot Kochetkov of the Russian LGBT Network.
"That's alright, you're gay so it's normal that you were attacked. Why would you need to submit a complaint against someone?" one victim says police told him, adding, "That's how it goes."
President Vladimir Putin seemingly does not care one iota, and said that foreign LGBT people visiting Russia for the Olympics have nothing to fear and should be "relaxed and calm."
"But please, leave the children alone," he added.