14 Best Moments Of the 2014 Olympics Opening Ceremony, Told In Instagram and GIFs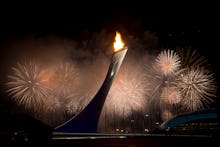 After months of speculation and rumors, the 2014 Sochi Olympics are finally here. Around 40,000 spectators gathered earlier today to watch the glitzy kick-off to the games. The opening ceremony will not air on NBC until 7:30pm EST, but we already have some of the best pictures and GIFs from the ceremony. Here are just a few:
1. The would-be Olympic logo.
Let's get the biggest gaffe out of the way. In a perhaps ominous hint of the games to come, the kick-off fireworks show ended in a spectacular failure when one of the orbs did not unfurl. But we felt bad for the little guy who never got his chance to shine.
2. Gorgeous St. Basil's model.
The colorful model of the Saint Basil's Cathedral was the perfect Russian touch.
3. Giant statue heads.
These floating heads were impressive ... and really creepy.
4. Spot the country!
And of course the best part of ceremony: watching the parade of countries and checking out all the Olympic fashion!
5. Levitation magic.
This was just witchcraft, and you can't convince us otherwise.
6. Light horses.
These horses galloping mid-air were simply breathtaking.
7. Snow falls in the stadium... kind of.
This snow-like light effect was gorgeous.
8. The mascots take to the ice.
The mascots included a bear, a tiger and a possessed rabbit.
9. Historical show.
The show highlighted peaks of Russian history, such as Tolstoy.
10. Suspended illuminated characters.
Logos of all the sports were featured.
11. Fireworks bonanza.
This view from far away is pretty spectacular.
12. Spinning light show.
The artists put on a striking show, which just needed some dubstep to turn into a psychedelic disco.
13. The cauldron is lit.
Former figure skater Irina Rodnina and former hockey player Vladislav Tretiak did the honors.
14. And we're off!
Best of luck to the athletes. May the odds be ever in your favor. (Are those different games?)