While You Were Sleeping, Team USA Took Home the First Gold Medal of the Olympics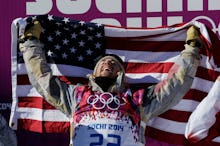 It's only hours into the 2014 Winter Olympics and team USA is already collecting the hardware.
Snowboarder Sage Kotsenburg of Park City, Utah became the first gold medal winner of the Sochi games with his win at the men's slopestyle competition on Saturday. Kotsenburg, 20, beat out Norwegian Staale Sandbech, 20, who took silver, and Canadian Mark McMorris, 20, who walked away with the bronze.
The event marked the debut of slopestyle snowboarding at the Olympic games — a contest that combines slick rails and big-air jumps — which meant there were still a few kinks to work out at first. Leading up to the competition, participants expressed concern over the course conditions and potential safety risks. Snowboarding superstar Shaun White sustained a minor wrist injury during a practice run, but pulled out of the event entirely citing safety concerns. 
Image Credit: AP
"Coming here and winning, I can't even describe the feeling," Kotsenburg said of his gold medal win, the first of the games. Though Kotsenburg has had a relatively strong snowboarding career, he hadn't won a competition since he was 11. "A mega drought," he called it.
Though other competitors put on dazzling displays of flips and twists, the boarders were said to have been judged by the overall impression left on the judges, Kotsenburg relied on old-school spins and simpler twists that culminated in a 1620 Japan — a four-and-a-half revolution spin while grabbing the board in front of his front foot and arching his back. 
"I had never, ever tried that trick before in my life," he said. At least Kotsenburg picked the right place to, as they say, go big or go home.