For the First Time in History, Female Ski Jumpers Can Go For Olympic Gold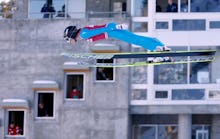 Believe it or not, the 2014 Olympic Winter Games in Sochi mark the first time women will be able to compete for gold in ski jumping. That's right: Despite being one of the 16 original events in the inaugural Winter Games in 1924, competing in Olympic ski jumping has only been open to men. But that's finally changed this year, and women's ski jumping will make its Olympic debut on Feb. 11.
For years, the International Olympic Committee cited a variety of excuses for why they would not hold a women's ski jumping event. Female ski jumpers have petitioned to join the games every year since Nagano in 1998, but the IOS refused to budge. At the 2010 Vancouver games, the IOC denied the request saying that "Women's Ski Jumping does not reach the necessary technical criteria and as such does not yet warrant a place alongside other Olympic events."
"I would love to know what the technical merits are," said Lindsey Van, a world class female ski jumper and long-time crusader to get a female ski jumping event in the Olympics. "We have international competitions and our own championships. We meet all the technical requirements."
To be fair, at the time, women's ski jumping wasn't nearly as established as it is now. Back in the mid 2000s, there was no women's world ski jumping championships, and women's participation in International Ski Federation's (FIS) Continental Cup — a notch below a world championship — had been for only two years. The sport just wasn't known enough to warrant a spot in the Olympics, so the story went. But it got even worse. In 2005, FIS president and IOC member Gian Franco Kasper said he opposed women's ski jumping because it "seems not to be appropriate for ladies from a medical point of view."
Then in 2009, Van and nine other female jumpers sued the Vancouver Organizing Committee (VANOC) for violating the ban on gender discrimination in Canada's Charter of Rights and Freedoms. While the British Columbia Supreme Court agrees with Van and ruled that the IOC had violated the law, they were an international body and therefore not subject to Canada's constitutional laws. 
Lindsey Van, left, and Jessica Jerome, center, at the U.S. qualifiers. Image Credit: AP.
However, Van and her compatriots persevered and continued their campaign, and things have finally paid off. Van, now 29, will be joined by 2013 world champion Sarah Hendrickson, 19, and Jessica Jerome, 27, on the three-women U.S. squad competing for gold in Sochi.
"I was confident that the day would come; we were too much of a force to be reckoned with. But I didn't know when," Jerome said when the IOC finally decided to include the event.