9 Reasons to Love Openly Gay Snowboarder Belle Brockhoff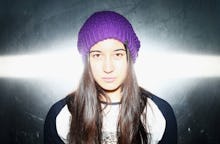 Sometimes called "Australia's most vocal athlete about Russia's anti-gay propaganda laws in the lead up to the Winter Olympics," Belle Brockhoff is an Olympic snowboarder and a gay person. But what's interesting about Brockhoff is that while she recognizes that both are important parts of her life that intersect in many ways, she doesn't let one define the other. Yes, she's a gay athlete, but she's also just an athlete — a world-class one — and wants to be respected as such. She's very active on Facebook and Twitter, and has joined multiple campaigns as an advocate for gay rights.
She'll be competing in the snowboard-cross at Sochi, but before you see her hit the slopes, here are nine great things about Belle that make her an athlete, and a person, worth watching.
1. She came out publicly in response to Russia's anti-gay laws.
Although she's been out for a few years to her friends and mother, Brockhoff used the announcement of Russia's anti-gay laws as an opportunity to publicly come out as gay. In an interview with the Australian Broadcasting Corporation, Brockhoff came out nationally to take a stand for gay and lesbian athletes.
"I honestly find it a little bit disrespectful and a little bit sad, not only to me, but to other athletes and, you know, it's my dream and I want to be able to be who I am, be proud of who I am and be proud of all the work that has gotten me to the Olympics and not have to deal with this kind of a law."
2. She's willing to "rip on Putin's ass."
"After I compete, I'm willing to rip on his ass," Brockhoff told Yahoo Sports, referring to Russian President Vladimir Putin. "It's the perfect opportunity to send a message [...] I'm not happy and there's a bunch of other Olympians who are not happy either."
3. She's an active member of the Principle 6 campaign.
Brockhoff is very involved in Principle 6, a campaign formed by two non-profits, Athlete Ally and All Out, which is named after the clause in the Olympic charter that guarantees non-discrimination and works to support LGBT athletes and show how Russia's anti-LGBT discrimination is incompatible with the Olympic movement.
4. She's focused on winning.
Even though Brockhoff is an active advocate for gay rights, she knows that she wouldn't be at the Olympics without her hard work as a snowboarder and is putting that first at the Winter Games in Sochi. 
"During the whole Games, I won't be getting into anything political, it's not why I'm there," Brockhoff told BBC.
5. But she still wants to protest.
"I'm not afraid to express my opinion after the Games, but I don't want any official to pull me aside or someone to stop me at the border," Brockhoff told BBC.
As a small protest at the games, Brockhoff said she plans to "hold up six fingers to represent Principle Six. Possibly I'll do it on camera here or there, and maybe after the heats of my event."
6. She made this awesome documentary about her road to Sochi.
This two-part series provides a really interesting look into the life of an Olympic athlete leading up to the Games. It's very cool of Belle to do this considering that these few months leading up to Sochi are some of the most intense she'll ever face. Part Two is here.
7. She's representing so many other LGBT athletes.
Along with Brokhoff, a number of other out gay women are participating in the 2014 Sochi games: Barbara Jezeršek of Slovenia for cross country skiing, Cheryl Maas of the Netherlands for snowboarding, Anastasia Bucsis of Canada for speed skating, Irene Wüst of the Netherlands for speed skating, Sanne Van Kerkhof of the Netherlands for speed skating and Daniela Iraschko-Stolz of Austria for ski jumping. But these are just the ones who are comfortable enough coming out publicly. Hopefully, the actions of Brockhoff and co. will make it easier for other athletes to come out publicly in the future.
8. She's also just really good.
Brockhoff has been on the snow since she was a toddler, but it wasn't until just a couple years ago that she put aside a variety of other downhill sports and focused exclusively on snowboard-cross. Considering that short time span, Brockhoff has made an amazing rise to the Olympic stage.
9. She Instragrams pictures like this
Now, isn't that just delightful?