Stop Everything And Watch This 15-Year-Old's Jaw-Dropping Figure-Skating Routine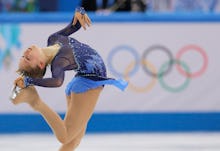 It only took a couple of days, but we've already seen the first jaw-dropping performance of the 2014 Olympic Winter Games. In the women's short program portion of the figure skating team competition on Saturday, 15-year-old Russian sensation Yulia Lipnitskaya blew everyone away with her style, grace and amazingly precise routine.  
The Russian team was already doing very well in the figure skating team competition, but Lipnitskaya's performance pushed them over the edge.  
The performance sent fans inside the Iceberg Skating Palace to their feet, but a number of figure skating luminaries were also blown away by Lipnitskaya.
(Note: The video above is from The European Championships, not the Olympics, but shows the exact same routine Lipnitskaya performed Saturday in Sochi.)