Relive 'Breaking Bad' With This Incredible Walter White Facebook 'Look Back' Video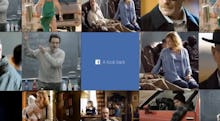 To celebrate their 10-year anniversary, Facebook put together a fun, little "Look Back" feature that compiles your best (awkward/terrible/embarrassing) Facebook moments since joining the website into a short video designed to make you reminisce about the good times and thank Facebook for being there to help you catalog your life.
It's been particularly exciting to watch other people's Look Backs, and especially those from awesome people like America's favorite meth dealer Walter White. 
To celebrate the amazingness that is Breaking Bad and Walter White, YouTube channel Derick Watts & The Sunday Blues created this awesome Look Back for White that includes a perfectly parodied one-minute video with "all" of his best moments. 
Oh, the memories.