8 Amazing Instagrams From Gold Medalist Snowboard Sensation Sage Kotsenburg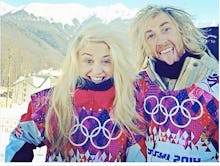 Sochi marks the debut of the new slopestyle course, and on Saturday, 20-year-old American snowboarder Sage Kotsenburg became the first man to win the gold on it. (The 23-year-old Jamie Anderson also won the women's slopestyle snowboarding competition, giving Team USA a gold-medal sweep for the sport.)
But despite the tiring and grueling road to victory, Kotsenburg has offered some fun, behind-the-scenes glimpses during the lead-up to the competition. His Instagram is filled with pictures of him training with other athletes, and it shows us how much time and dedication Olympians put into their work.
Here are eight best photos Kostenburg has posted on Instagram.
1. Modeling the Team USA uniform
"So this happened today. Haha!! #OpeningCeremony#SweaterPuppies"
2. Going through the hoops
"We're here in Sochi!!! It's a super beautiful place about to go shredding around the mountain! #CO4N #SoG#SoChill #GoTeamSpoice #GoTeamUSA"
3. A glimpse at the new slopestyle course
"Today we rode powder all morning then got to see the Olympic slopestyle course, it looks big! Hopefully it's a lot of fun we will see in 2 days"
4. Powder time
"Today was so fun riding MORE powder here in Sochi! First day of practice going down tomorrow. Thanks for the photo @josschristensen #SpoiceBoys"
5. Getting in some practice
"View from the last knuckle in the slope course here in Sochi, not bad!! #Spoice #RushinAroundRussia#SkimMilk #ShouldaWorkedOut #NoVegetables"
6. Blondes have more fun (with Irish snowboarder Aimee Fuller)
"Me and @aimee_fuller are ready for Slope Qualificaions today!! Hair game greasy as bacon.#HerHairIsSoft check it out at NBC LiveStream in an hour!"
7. Mountain sunset
"Well! Slopestyle is going down today at the Olympics. Semis and Finals. Should be a lot of fun! Can't wait for everyone to watch, everyone has been riding SO well it's on another level! As much as slopestyle might be over today at the Olympics, snowboarding goes on no matter what. Let's go have some fun and send it!!#GoTeamUSA #VeryProudToHaveThisOpportunity"
8. Did we mention that he also won the gold?
"So this happened today... Haha! Craziest day of my life for sure and to share it with two kids that I thought put down some of THE SICKEST runs I have ever seen were right there with me @stalesandbech and@markmcmorris , not to mention all the other bosses that put down the heaviest runs to go down on a slope course. Thanks for all the support everyone you RULE... Now LET'S GO RIDE SOME POW!!!"