9 Gnarliest Falls and Funniest #Fails of the Sochi Olympics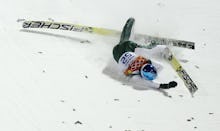 Just a few days into competition, the Sochi games have already had their fair share of dangerous fumbles and stumbles. While some of these falls are quite funny and GIF-worthy, they serve to remind us just how dangerous these sports are, and how much these athletes put on the line. Here are nine of the wildest moments from the 2014 Olympics so far:
1. Austrian athlete face-plants during Opening Ceremony entrance
That's one way to make an impressive on an international audience.
2. Veteran Robert Kranjec falls during qualifying rounds
The 32-year-old Slovene ski jumper Robert Kranjec, who received a bronze medal at the 2002 Olympics and won the 2012 Ski-Flying World Championship, unfortunately fell during qualifications and twisted his knee. He hopes to rest for a few days and be ready for next week's competitions.
3. Slip and slide
During the women's slopestyle snowboarding competition, the 22-year-old Austrian athlete Anna Gasser had a false start and left the start house too early. She then tried to climb back up the slippery hill, resulting in this hilarious GIF.
4. The award for best recovery goes to...
The 31-year-old Indian luge athlete Shiva Keshavan fell off his sled during a practice run, then made this miraculous recovery.
5. Terrifying fall and survival
This is a bite-your-nails kind of fall, and we're so glad that Sarka Pancochova is okay. The 23-year-old Czech athlete had a scary fall during the women's slopestyle snowboarding competition. How bad was the fall? Her helmet split open because of the impact. Luckily, she was uninjured and even got back up to finish her run as the crowd cheered.
Watch the jaw-dropping fall below:
6. A stumble on ice
The 19-year-old American figure skater Jason Brown fell during his Olympic debut, but made quite an impression with his "Reel Around the Sun" routine. Brown, who was originally aiming for the 2018 Olympics, still managed to win fourth place in the men's free program competition.
7. More dangerous falls on the slopestyle course
The new slopestyle course has been met with much criticism, and the mounting athlete injuries show just how dangerous it is. The 32-year-old Norwegian snowboarder Kjersti Buaas also fell during a qualification run, slamming head-first into the snow. Thankfully, her injuries were limited to a ruptured muscle and back pain.
Buaas has since posted this Instagram showing her recovery:
"Oh snap...That was a real scare!!! Good news is that I only ruptured a muscle... I am so grateful it's nothing worse, even though I have some severe pain in my stomach and back... ???? #sochi2014 #olympics#worstslamofmylife #thankful #????"
8. A nasty crash
The 26-year-old Norwegian snowboarder Torstein Horgmo also fell on the slopestyle course during a practice run, landing on his face and shoulder, and breaking his collarbone. He is in recovery.
9. A champion's fall
Four-time defending champion and figure skater Jeremy Abbott fell during the men's team short program, missing his opening quadruple toe loop and sliding into the wall. The fall was shocking not because it was dangerous, but because it was so unlikely coming from Abbott.