This Is Easily the Most Viral Moment of the Olympics So Far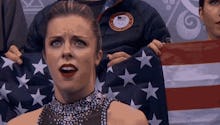 When the judges revealed the results of the women's team short program competition, American figure skater Ashley Wagner did not even try to hide her disappointment. As the camera zoomed in on her, she gasped at the scoreboard, turned to a teammate and said the one word that summed up her feelings: "Bullshit."
Her angry whisper has already inspired a flurry of media reports and tweets. In fact, it has become the top TIVO'd moment of Day 1 of the Sochi Olympics.
"I know roughly when I skate a good program where the score should end up," Wagner told Yahoo! Sports of her reaction. "So to score that low was very disappointing."
Watch Wagner's meme-worthy moment below:
Image credit: Deadspin
So why was she so upset? The 22-year-old skater faced a lot of criticism when she was first selected for the Sochi team. Despite falling several times and coming in at fourth place at the national championships last month, Wagner made the cut, inciting online furor over whether she deserved the spot. The only way to quiet her critics, she decided, was to succeed at the Olympics.
"It was on my mind with the media frenzy over the last couple of weeks that I needed to prove to myself and everybody else that has even doubted my belonging here that I am here to compete, to be competitive," she said.
She then delivered a clean program to Pink Floyd's "Shine on You Crazy Diamond," which received a round of praise from critics. "Wagner quiets critics with solid performance," ESPN said. "Ashley Wagner gets redemption," read Entertainment Weekly's headline. USA Today argued the same. And the Washington Post lauded Wagner's contribution to the American figure skating team: "Ashley Wagner keeps the U.S. in team medal contention," the headline said.
Still, it was not enough to place her in the top three. The result was especially galling since the third place spot went to Japan's Mao Asada, who fell during her program. Wagner's score was also the worst of her season — even lower than what she received at the national championships.
But the U.S. figure skating team is still in contention, and Wagner's contribution is keeping it alive. In the meantime, let's celebrate Wagner's coronation as the McKayla Maroney of the Sochi Olympics: