6 Supermodels Who Challenged Stereotypes and Became Wildly Successful Entrepreneurs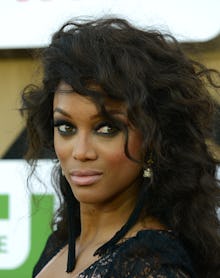 In recent years, supermodels have become restricted to runways as popular actresses landed mainstream magazine covers. In order to develop a brand and become like Gisele, models not only have had to prove their selling powers, but they also need establish themselves as strategic businesswomen and entrepreneurs.
"Models are getting a lot more savvy," Ryan Schinman, chief executive of celebrity marketing company Platinum Rye Entertainment told Forbes. "They're saying: 'If I'm helping people sell products, I want skin in the game too.'"
This is no easy task. In an interview with Forbes, Kathy Ireland — who now runs a billion dollar furniture empire — said that sometimes people pull out old issues of Sports Illustrated featuring her in a bikini when she walks into a boardroom. She said that she constantly has to overcome the fact that men are mentally undressing her and underestimating her because of her beauty.
Through relentless hard work, Ireland has become a leading example in the handful of models who proven capable of being powerful forces in the business world.
1. Tyra Banks
Banks has said she wants to be the next Walt Disney. And though the animator and the model/actress/author/host of America's Next Top Model/venture capitalist don't appear to be similar, you'd be surprised by how much the two have in common. A few years ago, Banks told Good Morning America host Robin Roberts, "I look up to Walt Disney and what he's done. He was was a man with a message and a very clear objective about what he wanted to bring for family entertainment and that's what I want to do for young women and women around the entire world."
In less than a decade, Banks has created a multi-million dollar empire. America's Next Top Model draws about 3.8 million viewers and is entering its 21st cycle. She also had The Tyra Show which was on for five seasons, and she runs the TZONE Foundation, a fundraising platform that helps empower young women and girls. In 2009, Banks was named the highest-paid woman in prime time with an annual income of $30 million. She also launched the beauty site typeF.com in March 2011. And then most recently she invested in the virtual jobs center, The Muse. Watch out, Disney.
2. Gisele Bündchen
The Brazilian beauty is the highest-paid model in living history as her wealth is more than $250 million. Bündchen has been the top-earning model in the fashion industry since 2004, but it isn't all about looks. Known simply as Gisele, she has a real mind for business.
The Ipanema line of sandals Bündchen launched with the label Grendene accounts for 63% of the company's annual exports. In 2010, she founded Sejaa Pure Skincare as well as a lingerie line, Gisele Bündchen Intimates. Her selling power is evident with mass retailers like H&M and Espirit as well as Procter & Gamble's Pantene shampoo. She also acts as creative director on a line for mass-fashion retailer C&A.
American economist Fred Fuld even created the "Gisele Bündchen Stock Index" in 2007, a comparative study charting the performance of brands associated with Gisele. "Some people start modelling because they want to be models and they want the parties and the recognition, and then there are people like me," Gisele told Vanity Fair in 2004. "I come from a simple family, and for me, getting into modelling was a chance to make money and create a business."
3. Coco Rocha
From the beginning, Rocha's goal was to not be an anonymous model with a recognizable face. "I started [working as a model] when it was the backlash of supermodels. Now models all kind of look alike; no one knows our names," she said at a panel last spring with Glamour Magazine. She knew anonymity, even if she was getting major covers and campaigns, was not going to help her build a brand.
Rocha knew she had to take control because otherwise the media would simply paint her the way they wanted to. "Now, with social media, it's so easy to have a voice," said Rocha. "A lot of girls don't know what their voice is, or their brand. I try to tell girls early on to figure it all out."
Rocha started a blog to establish that voice. She also experimented with Twitter, Tumblr and Instagram in their very early stages. "No one was on it. I figured I'll play around with it. If it doesn't work, who cares? My goal is always to be the first. It is a great way of boosting your numbers."
No one from the fashion world was using social media much at this point, so being the first certainly paid off. Rocha now has millions of followers on 13 different platforms and was the first model to surpass 1 million followers on Google+. She is also a contributing editor for PCMag. This is a great career achievement, but Rocha said it was difficult to deal with some of the negative backlash: "I still don't get taken seriously. People say you're just a model. You're just pretty. It's sad that the stereotype of women who look pretty in photos can't talk about other things."
4. Kate Moss
Though Moss was known better for her weight and sticking a cigarette in her mouth, in the last few years the famous waif has established herself as a great business mogul. In 2007, she hooked up with British retailer TopShop, but that was just the beginning of businesswoman Kate. That year she also launched a fragrance and body lotion range bearing her name in association with Coty. In 2011, she created a collection of lipsticks with Rimmel to commemorate her partnership with the brand and last year she released The Kate Moss Book, which told her career journey. She is also diversifying herself by working on a line of smart phone and tablet accessories with Carphone Warehouse.
So what is it about Moss' brand that makes her so appealing? Brand expert Peter Saville told Bloomberg Businessweek, "Kate is in an exceptional territory of her own. She is an icon to everyone, in that young women can relate to her and aspire to be her. She's an accessible icon, and similarly she's not intimidating. She's synonymous with possibility for young women — she's not impossibly beautiful, or alluring, or mannered. It's that that's made her such an astonishing role model for her times. Plus Kate has never denied or denounced her roots; she hasn't moved on to another world. All this has endeared Kate to a generation. She's a brand."
5. Kathy Ireland
The former supermodel has built a $2 billion empire that includes everything from ceiling fans to windows, rugs and jewelry. She is the CEO of her company.
Though Ireland says the whole "swimsuit thing" was a divergence to becoming an entrepreneur, she does admit years of being critiqued and rejected as a model helped her become a better businesswoman.
6. Miranda Kerr
Kerr is the environmentally-aware supermodel entrepreneur. She uses plant-derived ingredients for her Kora Organics skincare (launched in late 2009). She is also a contributor to Australia's body + soul magazine and received her Health Coach certificate at the The Institute for Integrative Nutrition in New York in 2011.
She told the Daily Telegraph, "I've been very passionate about health and wellness from a young age and I like to live a healthy life and a balanced life as much as I can. And body + soul gave me the opportunity to share my passion with others, so when they approached me to guest edit it just felt like a really great fit."