7 Incredibly Innovative Training Regimens of This Year's Team USA Olympians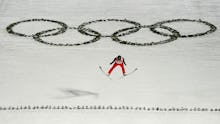 Have you ever wanted the body of an Olympian? Well, buckle up and get ready to do a lot of reverse squats using a "torture machine." If your body swells up, you can just submerge it in cold lakes afterwards.
Whether it's inhaling enough food to feed a family of four or engaging in grueling, boundary-pushing workouts, the American athletes at the 2014 Sochi Olympics have training and dietary regimens that would make any competitor quake in his or her boots.
Here's a look at some of the caloric intake habits, exercise routines and relaxation techniques that have helped turn athletes into Olympians:
1. Shaun White submerges his body in cold lakes
In a documentary called Shaun White: Russia Calling, White revealed that part of his training includes submerging his body in cold lakes to reduce swelling.
The snowboarder compares the strength needed for his sport to that of tennis — focused on speed, mental awareness and balance. Part of his workout involves balancing on a half-moon ball while getting medicine balls thrown at him.
2. Bode Miller does squats using a "torture machine"
Miller generated considerable buzz last fall in a marketing campaign launched by Vibram FiveFingers, which featured him taking on a "punishing" land training workout while wearing the form-fitting footwear. Set in a barn in his native New Hampshire, where he spent his childhood in a cabin without electricity or running water, the Alpine ski racer is seen undergoing an intense regimen that includes a homemade reverse squat "torture machine."
Other exercises he has been known to use include "the wheelbarrow," which involves pushing fifty pounds in a wheelbarrow uphill, and "slacklining," similar to tightrope walking, used to build balance.
3. Julia Mancuso work outs while wearing ski boots
Along with Pilates five days a week (while wearing ski boots) and extensive strength training with a BOSU ball (flat on one side, curved on the other), Mancuso focuses on working her fast-twitch muscles — which are responsible for fueling speed and agility on the Alpine slopes — with intensive sprinting and intervals.
4. Julie Chu eats every hour and a half
Chu skates five to six days per week and conditions on-ice and off-ice to prepare for Sochi.
To make sure her body is running as strong as possible, the hockey player eats every hour and a half to two hours.
5. Louie Vito runs with 120 pounds of weight
In an interview with Men's Fitness, Vito boldly said, "I am confident there will not be any athlete in all of the Winter Olympics that will be more conditioned than me."
The snowboarder's confidence stems from a commitment to what he refers to as one of the hardest conditioning routines out there in preparation for the games, which includes lifting, interval training on the treadmill and running on steps with up to 120 pounds of weight. These workouts are compounded with a diet that cuts out bread, rice, milk and soy.
6. Katie Uhlaender literally just works out all day long
Uhlaender's day starts at 5:30 a.m., when she works out for two hours, followed by 12 hours of work at her day job as a cattle rancher. The skeleton racer ends her day with even more workouts.
7. Lolo Jones follows a high daily calorie intake four times the average person's
To transform from hurdling superstar to bobsledding contender, Jones needed to bulk up her lean frame. She described the change as going from "greyhound" to "pit bull," catalyzed by a daily intake of 9,000 calories and workouts, which include numerous squats and "clean-and-jerks," an exercise that includes lifting a barbell while simultaneously moving into lunge position.
The average person typically consumes around 2,000 calories per day.