27 Greatest Moments From Jay-Z and Kanye's Decade-Old Bromance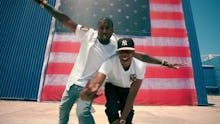 This week is the 10-year anniversary of Kanye's smash hit debut The College Dropout — the classic album that brought us "Jesus Walks," "Through the Wire," "School Spirit," "Family Business" and a whole slew of very weird skits.
That album completely changed our perception of what a mainstream rap artist could be and what a rap album could sound like, but Kanye never could have made it without his deep friendship with one man — Jay-Z.
Jay-Z was instrumental in getting Dropout made, and he features on the record pretty heavily. Jay and Kanye's relationship has evolved over the years, growing from joyful mentorship to steady creative rivalry and then the ecstatic diarchy of Watch the Throne, but through it all one thing has remained constant: their deep and abiding brotherhood.
Even now, on this great anniversary, in spite of Beyoncé's disapproval of Kanye and Kim, it's important to remember the best moments from pop culture's most epic bromance:
1. Kanye produces for the first time.
The two first met while Kanye, then an in-house producer for Roc-A-Fella Records, was tracking the beat for "This Can't Be Life" for Jay-Z's fifth album, The Dynasty: Roc La Familia. They had a quick conversation, feeling each other out, and immediately became friends. Jay apparently (according to the 13-minute-long "Last Call" on Dropout) told 'Ye: "Oh you a real soulful dude." Daps and blushes were had all around, and a bromance was born.
2. Kanye pretends he likes "This Can't Be Life."
When Kanye heard the final cut of Jay-Z's "This Can't Be Life," though, he was disappointed. He had envisioned the track with a simpler, party-track Jay flow, but he wound up with the "introspective, complicated-rhyming" Jay instead.
When Jay asked Kanye what he thought, Kanye bit his tongue (how times have changed) and said it was tight.
This well-placed white lie laid the foundation for the rest of their close, but competitive friendship.
3. Kanye produces 'The Blueprint.'
Jay became infatuated with Kanye's signature styles — the sped-up soul loops, the dense, symphonic boom bap — and the two formed a real working chemistry in the studio. Kanye produced four tracks on Jay-Z's now classic The Blueprint, which got Kanye his first No. 1 single in "Izzo (H.O.V.A.)"
4. Kanye and Jay-Z destroy Nas.
Kanye built the "Takeover" beat from a Doors sample and Jay tore it down with merciless digs into rival MC Nas, starting one of the highest-profile rap beefs the genre has ever known.
5. Jay-Z realizes Kanye is an amazing rapper.
Getting tired of his backseat role within the Roc-A-Fella family, Kanye started trying to prove he could rap, too. He started spitting in front of anyone who would listen.
During one of their Blueprint sessions, Kanye spat a verse for Jay. He saw Jay's eyes light up at the line, "I'm killin y'all niggas on that lyrical shit / Mayonnaise-colored Benz, I push miracle whips."
6. Jay-Z signs Kanye.
Jay was extremely hesitant to sign 'Ye in the beginning because he saw 'Ye as more of a producer and worried that he lacked the street cred necessary to succeed in rap.
But when Kanye started to narrow in on a deal with Capitol, Jay-Z got nervous that he might actually lose his star producer, so he drew up a contract to keep 'Ye around. When Capitol pulled out at the last minute, Kanye signed to Roc-A-Fella. Bottles on bottles were popped.
7. Kanye and Jay-Z rap together for the first time.
Jay-Z's "The Bounce" off The Blueprint 2 in 2002 was the first time the two shared the mic, and it's a fittingly epic foreshadow of Watch the Throne.
Jay-Z is measured, calculated and composed in evaluating his legacy while Kanye is all-out bravado: "Magazines call me a rock star, girls call me cock star / Billboard pop star, neighborhood block star." The song is a perfect snapshot of the way their personalities would develop down the line: Jay, the pragmatic businessman, and Kanye, the madman rock star.
8. "Through The Wire" inspires Jay-Z to finance 'The College Dropout.'
Though Kanye had a deal with Roc-A-Fella, he got very little support at first. His creative breakthrough came after he was almost killed in a head-on car crash.
He had to get face reconstructive surgery and his jaw was wired shut, but when he woke up he was inspired. He wrote and mumble-rapped "Through The Wire," over a sped up sample of Chaka Khan's "Through The Fire."
Kanye released the song on a mixtape Get Well Soon. When Jay heard the track he realized that Kanye was ready. He threw Kanye $30,000 to cut an album and what we got was the legendary The College Dropout.
9. Jay-Z raps on Kanye's "Never Let Me Down."
The College Dropout came out to massive critical acclaim. Jay-Z spit the lead and the closing verses on "Never Let Me Down," just straight swagger: "Hov's a living legend and I'll tell you why / Everybody wanna be Hov and Hov's still alive." From then on, every time Jay and Kanye appeared on a track together they'd be out head-hunting, trying to get one hot line ahead of the other.
But even with his stellar verses, this was still Kanye's show.
10. Kanye and Jay-Z reminisce in the epically long "Last Call."
Most of the story told in the first 10 items is summed up on the last track of The College Dropout, "Last Call."
Jay-Z introduces the track: "Yo fuck you, Kanye, first and foremost / For making me do this shit Muh'fucker / Had to throw everybody out / the motherfucking room" because Jay got the giggles reciting old snippets of their conversations and hearing his voice made into a Kanye beat. Pretty much the most joyful song ever.
11. Kanye ushers Jay-Z out on 'The Black Album.'
Kanye contributed two tracks to Jay's "retirement album," The Black Album: The rousing "Encore" and the alluring "Lucifer."
To kick off his righteous meditations on sin and vengeance in "Lucifer," Jay spits the bromantic ad-lib: "Kanyeezy you did it again, you a genius nigga!" 
12. Kanye gets snubbed for Jay-Z's retirement party.
This is the first sign of turbulence in their relationship.
Jay-Z started celebrating his retirement long before the Black Album dropped. He organized a huge concert at Madison Square Garden and invited all the biggest names to perform: The Roots were his backing band, Missy Elliott, Mary J. Blige, Beyoncé, Twista, Ghostface Killah, Foxy Brown, Pharrell, R. Kelly and fellow Roc-A-Fella rappers Memphis Bleek, Beanie Siegel and Freeway were there.
You know 'Ye had his deepest angry forehead lines going when he heard about that snub. This was the first real instance of bad blood between the artists, and signaled a transition from mentorship to outright rivalry.
13. Kanye Sides with Jay in the Roc-A-Fella Split.
In late 2004, Roc-A-Fella records split in two. This involved a lot of complex industry politics, but the bottom line was that artists had to choose between Jay-Z or Jay's old partner, Damon "Dame" Dash. Dame is the man that supposedly campaigned hardest to get Kanye his original deal, but Kanye turned his back on him and chose Jay, even though the two were increasingly competitive.
Last November, Kanye explained why in an interview with Charlemagne on The Breakfast Club: "Me and Dame, we the same. Dame is an ass. But I wanted to learn this technique that Jay got of actually being likable ... As his little brother, I needed to learn that technique because I got something that God want me to give the world."
14. Kanye beats Jay-Z for the Grammys album of the year.
In 2005, Kanye's The College Dropout beat Jay's The Black Album for Best Rap Album of the Year. Kanye gave an incredibly heartfelt acceptance speech, thanking Jay and Dash and Roc-A-Fella.
Though Jay's face likely stayed stone-cold and composed as Kanye walked off the stage, that last line probably stung a bit.
15. Jay-Z raps over "Diamonds From Sierra Leone (remix)."
Feeling that competitive fire coming off his Grammy win, Kanye decided to remix the lead single off his next album Late Registration. He invited the newly-retired Jay-Z to hop on for a verse.
Kanye wrote himself an all-new rap discussing the murder and maiming in Sierra Leone diamond mines in vivid detail, but Jay still came through and absolutely dominated the song, spitting some of the most memorable lines of his career: "I'm not a businessman / I'm a business, man."
16. Kanye ends the Jay-Z and Nas beef.
Kanye helped bring Jay's long-running beef with Nas to a close, inviting the rapper to spit on the Late Registration track "We Major" without asking for Jay's blessing. 'Ye's album went platinum in a week, which may have helped Jay realize he and his artists could gain more from working with Nas, rather than fighting against him. Later that year, Nas and Jay buried the hatchet.
17. Jay-Z steals Chris Martin's affections from Kanye.
Kanye told Jay-Z he had a song with Coldplay. Next thing 'Ye knows, Jay is returning to music after a 3-year retirement with a song featuring Chris Martin on Kingdom Come. Friends don't steal other friend's features.
Incidentally, "Beach Chair" is considered one of Jay-Z's worst songs, while "Homecoming" was one of Graduation's lead singles. 
18. Kanye writes the ultimate bromance ballad for Jay-Z.
Kanye's "Big Brother" is without a doubt the most honest, complex and compelling bromance ballad ever written. Kanye starts by describing the pure wide-eyed admiration he felt when meeting Jay for the first time. He then details the ups and downs of their working relationship (discussing list items 12, 15 and 17). But after cataloguing all the rivalry, slights and back stabs, Kanye ends on a note of pure love: "If you admire somebody you should go on 'head tell 'em / People never get the flowers while they can still smell 'em / An idol in my eyes, God of the game."
They later performed the song together live. It was amazing.
19. Jay-Z wrecks '808s and Heartbreaks' on "D.O.A."
A year after Kanye dropped his rapless, all-auto tuned 808s and Heartbreaks, Jay-Z released the lead single off Blueprint III claiming the auto-tune style was dead and all those who use it were hacks. This may seem like yet another major conflict-starter in the Jay-Z and Kanye relationship, but the statement was one they made collaboratively.
Kanye and Jay were frustrated with the amount of auto-tune they were putting into Jay's Blueprint III. So, they went back through the album and stripped it of all its auto-tune. Together, as friends. Jay then wrote "D.O.A." to commemorate the moment.
20. Jay-Z gets back-to-back features on Kanye's greatest record.
Setting the stage for the domination that would take place a year later on Watch the Throne, Kanye gives Jay back-to-back features on "Monster" and "So Appalled." Hov sounded hungrier and more passionate than he had in years.
21. Kanye and Jay-Z argue for four days about 'Watch the Throne.'
Kanye thought the songs "Oceans" and "Holy Grail" had to appear on Watch the Throne because they fit the aesthetic so well, but Jay wanted to keep them for himself as the centerpieces for his upcoming solo album, Magna Carta Holy Grail. 
Jay-Z described the epic argument to Pitchfork: "Four days literally arguing ... not like fighting. Well, there was some pushing at one point but not between us, just everyone else got a little excited."
22. They crown each other king on 'Watch The Throne.'
Recorded over the course of a year in the finest hotels and estates around the world, the process wasn't as romantic as the promo video seems to suggest. The two argued over the direction of the sound throughout the recording and went through three full rewrites of the album.
23. They flop, together, on lead single "H.A.M."
The first single in promotion of the album was not well-received, which caused a radical change in the direction of the album's sound from that flashy, baroque style to the smoother and more subtle album that it became.
24. Jay-Z and Kanye tour Kanye's hometown.
To promote Watch the Throne, Kanye and Jay put out a video showing the two of them visiting Kanye's childhood home in Chicago. They walk around like the bosses they are and and Kanye gets all nostalgic sharing stories.
25. Kanye asks Jay-Z to help him court Kim.
Yeezy started to fall in love with Kim right around the time she got engaged to the Brooklyn Nets star Kris Humphries. As Kanye raps on "Cold" he toyed with the idea of asking Jay-Z to drop Humphries from the team so 'Ye could shine a little brighter in Kim's eyes. Jay definitely doesn't have that kind of power, but if it had come down to it, he probably could have made something happen for his brother.
26. Jay-Z and Kanye become dads a year apart.
Kanye and Jay had the mutual respect to set their babies' release dates a year and half apart so as not to compete for media attention. However, they did not do the same with Magna Carta and Yeezus, which dropped within two weeks of one another. The one-ups-man-ship continues.
27. Jay-Z and Kanye tease 'Watch the Throne 2.'
The two are on very equal-but-opposite trajectories right now. Magna Carta and Yeezus could not be more different hip-hop albums aesthetically, sonically and conceptually. Still, rumors of a Watch the Throne 2 continue to pop up around the web. That's because, despite all the turbulence of the past year, their friendship is indelible.
The Jay-Z/Kanye bromance has survived through business beefs, snubs, some mild plagiarism and lady troubles. It's been quieter recently, and Kanye has seemed a little lost, but anyone who revisits The College Dropout can hear it clearly on the record: This is a good man with a great friend at his side.