"Tainted Love" Sounds Even Better Played Entirely on Floppy Disk Drives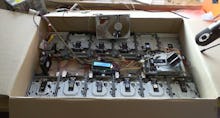 Remember the endless whirring and buzzing of floppy disks? The sound that launched a million crashed computers? Well, they're about to sound a whole lot better.
The Youtube user who goes by Gigawipf has ingeniously programmed several floppy disk drives to play a nearly perfect rendition of "Tainted Love" by Soft Cell.
While most people would write off floppy disks — let alone the drives that read them — as obsolete junk, Gigawipf's resourcefulness has turned the old technology into a clever way to celebrate the '80s and nostalgia in general. This is the perfect song to prove the point: Soft Cell's version of the song is a nostalgic '80s cover of the original soulful recording by Gloria Jones in 1964. Layers upon layers of nostalgia.
Check out the rest of the floppy songs here.