Matthew McConaughey Reveals How That Chest Beating 'Wolf of Wall Street' Really Came About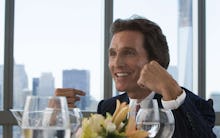 Well, it's official: Matthew McConaughey really is the laid-back hippie that America has always wanted him to be. 
On a recent appearance on The Graham Norton Show, McConaughey explained the origin of the iconic The Wolf of Wall Street chest-beating scene as simply one of his real-life antics that found its way onto the screen. Early in the film, Leonardo DiCaprio's Jordan Belfort goes out to lunch with his boss, played by McConaughey, who teaches him the secrets of working on Wall Street (namely, drugs and sex). In the middle of a fancy New York restaurant, McConaughey curiously starts beating his chest and humming a rhythm, urging Jordan to join in. 
It's a stunning sequence that offers a glimpse of the upcoming oddities the viewer will bear witness to, and reveals Jordan's seduction to the manic, savage rhythm of Wall Street life. But as MCConaughey tells Norton, the caveman-like chest-beating didn't come from the brilliant mind of director Martin Scorsese.
"That's something I'll do before scenes to relax myself, get my voice to drop. I've been doing it for a while, but it's just something I do," he says in his typical, easygoing McConaughey style, as if it's a perfectly normal thing everyone does. 
DiCaprio spotted McConaughey off-camera, casually beating his chest, and asked Scorsese if they could put it into the movie. McConaughey saw some genius in this, explaining on the show (as he snaps and beats his chest some more), "Now I'm getting him on the same rhythm, because now he understands, pass the torch."
Beyond being a smart film-making move, the origin of the scene proves that Dazed and Confused-era McConaughey lives on, humming himself into a zen-like rhythm before going into any performance. "On the way down the hallway I was sure humming and making noises," he says. "I wasn't beatin' my chest, but I was definitely finding a rhythm."
Here's to hoping his next movie finds McConaughey naked and playing the bongos — you know, just finding his rhythm with the world.