Microsoft May Drop Their Xbox Division. Here's Why.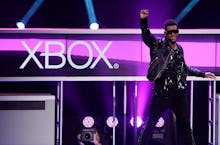 The news: Top Microsoft investors want new CEO Satya Nadella to slim down the company's operations and refocus on its core business: selling enterprise software to large businesses. And to do that, they want him to get rid of Bing, Surface, and even cash-cow Xbox.
Previous CEOs Bill Gates and Steve Ballmer imagined Microsoft as a "device and services" company and emphasized the need for the company to build a brand with consumers, not just corporate IT managers. But as the company finds itself diluted over several sectors Nadella, who spent "seven months running Microsoft's $20 billion server and tools division," may be well-placed to make sure that the future of Microsoft's business is business.
The company's Windows division has seen profits shrink from $12.3 billion in 2011 to $9.5 billion in 2013. The loss might be attributable to consumers losing interest in new Windows licenses for home and personal devices, even as business demand for Microsoft products remains strong. The Surface tablet reportedly lost $900 million, and the online services division that runs Bing is $1.3 billion in the red. And while those divisions in the red are a more obvious call to cut, even top investors like Paul Ghaffari think the profitable Xbox division is a distraction.
Would he really get rid of Xbox? Well, to slash down the consumer products divisions, Nadella will need to walk into the boardroom and directly repudiate the legacy of his predecessors as CEO — hardly an admirable task.
"You're asking for Nadella to walk into a board meeting and look Ballmer and Gates in the eye and say, 'The decisions you've made over the past two decades are a mistake,'" said Robert Bontempo of Columbia Business School. "That's going to take some serious strength of character."
PC Mag's Sascha Segan notes that in his first letter to staff, Nadella said he saw "a 'software-powered world,' a 'mobile and cloud-first world,' and that doesn't sound like a world where Microsoft makes a gaming system — or one where it makes a lot of hardware at all." But rather than being shut down, Segan predicts that the very solid Xbox part of the company will be spun off into its own entity. But Surface and recent acquisition Nokia are probably going to remain part of Microsoft for now until Segan can figure out just how the two mobile properties fit into that "cloud-first" environment. And Bing might be safe, as search technology will be very important to managing that world and competing against heavy contenders like Google.
Meanwhile, Xbox is widely considered the most successful product Microsoft has engineered in the last decade. And writing off Microsoft Studios, which helped engineer video game franchise successes like Halo, would be a massive loss of developer talent. Meanwhile, it's unclear who Microsoft would even want to sell Xbox off to. Any potential buyer would also be one of their biggest competitors.
The bottom line: Don't freak out — Xbox doesn't seem to be going anywhere just yet. And even if Nadella does decide to make a major transition, it seems even more unlikely that they'll just decide to shut it down. Your killstreaks are safe for now.