Watch the Black Ops Video of Delta Force Commandos Stealing a Terrorist From His Home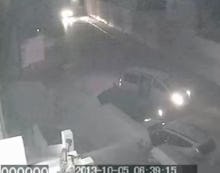 Accused Al-Qaeda militant Nazih Abdul-Hamed al-Ruqai (also known under the moniker Abu Anas al-Liby) is a Libyan under federal indictment for his suspected involvement in the 1998 United States East African embassy bombings, which killed hundreds of people in simultaneous truck bomb explosions at the U.S. embassies in Dar es Salaam and Nairobi. It was the first time that the threat posed by Al-Qaeda became known at large to the West, and was one of the most devastating terrorist attacks on a U.S. target in history.
Now, al-Ruqai sits in the special housing unit (ultra-secure solitary confinement) in a jail across from the federal courthouse in Manhattan. In October 2013, he pled not guilty to terrorism charges. How he got from a compound in Libya to awaiting trial in New York City is quite a story — and now you can watch it.
Watch the video below, courtesy of the Washington Post and Mediaite, which shows al-Ruqai being seized outside a compound in Tripoli in the early hours of the day on Oct. 5 by a team of U.S. Delta Force operators:
CIA and FBI agents apparently helped plan the grab, while the Army special forces carried out the abduction itself. According to the Post, the Libyan government is now paying for al-Ruqai's defense after initially agreeing to the operation, which was so unpopular among the Libyan public that Prime Minister Ali Zeidan was briefly kidnapped on Oct. 10.
Other news sites are reporting the grab with titles like "Gone in 60 Seconds" after the movie of the same name, while Jalopnik times the capture from start to utter disappearance in just 75 seconds. That's how Delta Force operates, apparently.