6 Countries in the Sochi Olympics With Worse Gay Rights Records Than Russia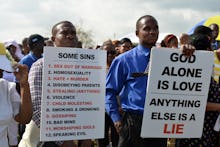 While we should celebrate all the athletes at Sochi, we would do well to remember that the Russian delegation isn't the only one representing a country with anti-gay laws on the books.
Here is a list of some of the countries participating in the Winter Olympics that criminalize same-sex relations, as well as some reasons for hope:
1. Iran
Punishment: Death
Challenges: Though former president Mahmoud Ahmadinejad asserted that Iran does not have a gay "phenomenon," the government has executed individuals for engaging in sodomy as recently as 2012. And while the pace of these executions has slowed in recent years, hundreds, maybe even thousands, of LGBT people have been killed by the government since 1979. Societal attitudes remain hostile as well.
Silver lining: Shockingly, Iran is second only to Thailand in the number of gender reassignment surgeries it performs — over 1,300 between 2006 and 2010 — and even subsidizes the procedures. There have been reports, however, of gays and lesbians being pressured to undergo the surgery so their sexual preferences do not conflict with the ban on homosexuality.
2. Jamaica
Punishment: 10 years in prison
Percentage who believe same-sex relations should be kept illegal: 85%
Challenges: Unwelcome at home, gay and trans teens, pejoratively called "batty boys," must often seek refuge on the streets and even in the sewers. For homeless youth, police brutality, HIV and sexual abuse are common. This problem has been recently compounded by an unprecedented level of mob violence against LGBT people.
Silver lining: The uptick in anti-gay aggression may be partially due to increased visibility. Though she has yet to act, the prime minister has said that she opposes discrimination on the basis of sexual orientation and that her government will review the island's anti-sodomy law in 2014. Violence and intimidation, meanwhile, have failed to stifle LGBT advocates from denouncing discrimination.
3. Dominica
Punishment: 10 years in prison
Challenges: This tiny Caribbean island made headlines a few years ago when two American men were arrested for having sex on a gay cruise in view of the port, but the focus has since turned to schools. The education minister created a task force in 2012 with the purpose of "investigating and identifying the root causes of deviance and the increasing incidents of homosexuality among [the] student population." The country's prime minister, meanwhile, has said that decriminalizing same-sex relations is out of the question for the "foreseeable future."
Silver lining: A gay rights group has managed to convince Dominica's highest Catholic official to renounce anti-sodomy laws as a promoter of violence. The statement successfully caught the attention of the fervently religious society.
4. Pakistan
Punishment: 10 years in prison
Percentage who believe society should accept homosexuality: 2%
Challenges: Though authorities rarely invoke anti-sodomy laws, deep-seated homophobia compels many gay men to lead a double life, entering into marriages of convenience with sexual partners on the side. Hijras, a traditional third-gender often equated to transgender women, are typically hired to dance at weddings and baby showers, as their presence is considered good luck. But hijras make most of their money through begging and prostitution, not dancing, and are the victims of discrimination and abuse.
Silver lining: Officials have largely ignored the country's thriving underground gay scene, leading some to believe that opposition to homosexuality may slowly soften. Additionally, landmark court rulings have recently sought to integrate hijras into Pakistani society, empowering the community.
5. Zimbabwe
Punishment: One year in prison and/or fine
Challenges: President Robert Mugabe has a history of spewing homophobic vitriol. Just last year, he called LGBT people "worse than pigs, goats and birds," asserted that they should be "beheaded" and proclaimed same-sex marriage to be a "filthy, filthy, filthy disease." Police have detained LGBT organizers, while the media is often complicit in propagating anti-gay messages.
Silver lining: Advocates are hopeful that Zimbabwe's 2013 constitution represents a step forward for equality. Though it prohibits same-sex marriage, one group believes the constitution "provides a useful foundation on which Zimbabwe can rebuild respect for human rights," and "recognizes in its founding values, the equality and inherent dignity and worth of all human beings."
6. Lebanon
Punishment: One year in prison
Percentage who believe society should accept homosexuality: 18%
Challenges: While dubbed the "gay oasis" of the Arab world, Beirut is less tolerant than its label would suggest. Discrimination and prejudice remain widespread, and though the city certainly has gay bars, police raids have subjected patrons to humiliating and abusive practices. In 2012, dozens were arrested in a gay porn cinema and forced to undergo anal examinations — a discredited, yet routine, method of determining whether someone has had anal sex. Further, queer Syrian refugees in Lebanon are uniquely vulnerable to abuse due to their nationality and sexual identity.
Silver lining: Following the cinema ordeal and the resulting public outcry, authorities have ordered the end of anal examinations. The media has also reportedly increased its coverage of LGBT issues. A few years ago, Lebanon became home to the first periodical for gay Arabs.