4 Brief Thoughts From the Sochi Team Figure Skating Event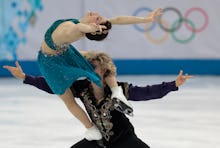 The inaugural team figure skating event went exactly like everyone thought it would: Russia Gold, Canada Silver, USA Bronze. While the results were basically set in stone before the ladies' long program even started, the team event provided some valuable insight into how the rest of the Olympic figure skating events will play out: 
1. The Russian pairs are back. Nearly five decades of Soviet/Russian pairs' dominance ended in Vancouver when no Russian pairs finished on the podium. In Sochi, it was no surprise that reigning World Champions Tatiana Volosozhar and Maxim Trankov won the team pairs' short program by ten points. The real story came when their less-experienced teammates, Ksenia Stolbova and Fedor Klimov, skated a stellar long program and decisively won that portion of the competition. Russia will likely recapture the pairs' gold, and they could even place two pairs on the Olympic podium for the first time since 1998.
2. Patrick Chan will have a difficult path to gold. The last four years have felt like an Olympic coronation for three-time World Champion Patrick Chan of Canada. Thanks to his superior basic skating skills and interpretive ability, Chan can usually make a mistake or two and still win major international competitions (a phenomenon skating fans call "Chanflation"). The Olympic judges sent a strong message when they placed a flawed – but not disastrous – skate from Chan third in the team men's short program. It looks like the Canadian curse will strike again unless Chan skates clean in the men's event.
3. The ice dance gold may already be decided. What's been billed as a contentious battle for ice dance gold may turn into a total blowout. Americans Meryl Davis and Charlie White defeated their Canadian rivals Tessa Virtue and Scott Moir by ten points over both portions of the team event. In the hierarchical world of ice dance, the Americans' momentum may be hard to derail going into the dance event. The battle for bronze will be far more exciting and unpredictable.
4. Yulia Lipnitskaya can win the ladies' event. Reigning Olympic Champion Yuna Kim of South Korea is still heavily favored to defend her title, but she has reason to be nervous. Russian wunderkind Yulia Lipnitskaya earned the highest long program score of the season in the team event. Kim should have the advantage if both women skate clean, but she can't afford to leave the door open for the young Russian.