Don't Forget These 8 Lesbian Athletes Who Stood Up for Gay Rights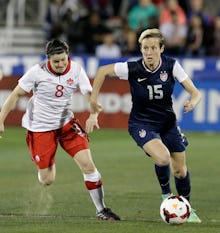 In the days following his coming out, former Missouri defensive end Michael Sam has enjoyed an outpouring of support from current NFL players and fans alike. With this announcement, he will become the first active openly gay male athlete in American professional sports — a major milestone for the LGBT community.
Sam is in a position to become an ambassador for the gay community by breaking down stereotypes that perpetuate the notion that gayness and traditional conceptions of masculinity associated with football are mutually exclusive traits. But while this is a great step forward in the realm of men's professional sports, gay female athletes have had a long, and much less publicized, history of similarly groundbreaking progress in fighting for equal rights. The relative lack of fanfare on the women's side may be due to archaic ideas about lesbian women being more masculine, and therefore more congruent with the stereotypical athlete, than are gay men.
Here's a list of eight openly gay women behind some of the most crucial milestones in the LGBT sports world. These women have helped challenge this sexist double standard, and show that both genders have made equal progress for LGBT rights in sports.
1. Billie Jean King
In 1981, the tennis star Billie Jean King became the most prominent openly gay female athlete upon revealing her relationship with her secretary, Marilyn Barnett. Unfortunately, King was unable to come out on her own terms, as a palimony lawsuit filed by Barnett brought their relationship into the public eye. However, King is now an icon in LGBT community, recently selected by President Obama to serve on the U.S. delegation to the Olympics. 
2. Martina Navratilova
Shorty after the outing of her on-court rival Billie Jean King, Martina Navratilova followed King's suit by revealing her sexual orientation in a column in the Dallas Morning News. Unlike King, Martina came out on her own terms, setting a precedent for many LGBT athletes to come.
3. Violet Palmer
Though not an athlete herself, Violet Palmer made huge strides for the LGBT athletic community when she became the first ever-female referee in a men's professional league. Palmer made her debut in 1997, officiating her first NBA game in a career that would span over 10 years. While she endured some misogynistic backlash throughout her career from the players she officiated, Palmer was consistently among the most respected referees in basketball.  
4. Patty Sheehan
Patty Sheehan is one of the most successful female golfers of all time, winning the LPGA tour on 35 occasions, including six major victories. Her golfing prowess earned her a spot in the Golf Hall of Fame, and her decision to become one of the first female golfers to come out as gay has made her an influential spokeswoman for lesbian athletes. 
5. Leigh-Ann Naidoo
Naidoo was a member of the South African women's volleyball team in the 2004 summer Olympic games. Though not a household name, Naidoo became the first African ambassador to the Gay Games, a landmark achievement for a continent not known for its progressive attitudes about gay rights. 
6. Sheryl Swoops
When WNBA star Sheryl Swoops became one of the first African-American female athletes to come out as gay in 2005, she was arguably the most famous athlete ever to do so in American professional sports. Swoops is a three-time WNBA MVP, one of the league's founding players and perhaps its greatest talent. She is currently the head women's basketball coach at Loyola University in Chicago. 
7. Megan Rapinoe
Megan Rapinoe gained her first foray into the public spotlight following her stellar performance as a midfielder on the U.S Women's National Soccer Team silver medal effort at the 2011 World Cup. Following the tournament, Rapinoe revealed her relationship with a fellow female soccer player to Out magazine. Her courage and advocacy for gay rights earned her a board of directors award from the Los Angeles Gay and Lesbian Center in 2012. 
8. Brittany Griner
The most recent openly gay female athlete in the sports world is current WNBA center Brittany Griner. Griner was perhaps the greatest female college basketball player of all time at Baylor University, where she gained notoriety from her dominant statistics and her rare ability to dunk in the women's game. In the interview in which she publicly came out, Griner detailed the bullying she endured growing up because of her sexual orientation. She is now one of the leading advocates of anti-bullying in schools, especially when directed at the LGBT community.