7 Warm-Weather Olympic Teams That Have A Chance in Sochi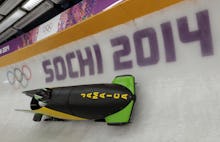 As the 2014 Winter Games begin, a record 88 countries are competing to bring back medals and their share of the Olympic glory in Sochi. Although the Winter Games are usually dominated by countries with cold climates, mountainous regions and sophisticated training programs, more warm weather nations and tropical countries are turning heads and competing this year despite their obvious disadvantages . 
"For some of these smaller nations that may struggle to enter the Summer Olympics, there's more opportunity in winter sports," said Janice Forsyth, director of the International Centre for Olympic Studies at Western University in Ontario. "There is an incentive for these countries to get their name on the world stage to make their presence known."
In many cases, athletes representing these countries often overcome extraordinary odds and sacrifices just to make it to the Olympic stage.  
Check out the warm weather nations heating up the Winter Olympics this year:
1. Mexico
Although Mexico was the first tropical country to compete in the Winter Olympics in 1928, the country skipped every Winter Games until 1984. This year, 55-year-old alpine skier Hubertus von Hohenlohe represents Mexico.
Born in Mexico, raised in Spain and schooled in Austria, von Hohenlohe is his country's lone representative in the Sochi Olympics and has never won a medal, despite competing six times in the Winter Olympics. He is already making headlines at the games as not just one of the oldest athletes to compete but also as one of the best dressed on the slopes in his mariachi costume.
"For me it was never a doubt, I knew that I wanted to ski and to compete for Mexico; I was convinced from the beginning that this is my country," Von Hohenlohe said.
2. Jamaica
Ending a 12-year Olympics absence, the popular Jamaican bobsled team is back!
After making its debut in the 1988 Winter Games in Calgary, Alberta, the Jamaican team inspired the hit 1993 movie Cool Runnings.
"It was one of those things that totally took people by surprise. Jaws kind of dropped wide open," said Devon Harris, a member of the first Jamaican team. "None of us had even seen a bobsleigh six months before the Olympics were due to start."
The team this year faced severe financial hurdles after qualifying for Sochi, but managed to raise $120,000 through social media and a fund-raising campaign to make the trip. 
The famed Jamaican team, however, has become an inspiration to other tropical countries and athletes around the world to compete in the Winter Olympics.
"When we got there all of us on that team realized what it meant to follow your dreams," said Harris. "Olympic athletes represent dreams of hundreds of thousands of people from every corner of the world. The fact that I'm from Jamaica, or wherever, doesn't stop me from dreaming."
3. The Philippines
At age 17, Michael Christian Martinez is the only representative of the Philippines in Sochi and the only one to qualify since 1992. 
In the Philippines, there are only two ice skating rinks in the entire country, both of which are located in malls. 
Skating since he was 8 and competing since he was 12, Martinez has been racking up international awards in men's figure skating and is the first Filipino to perform a triple axel, but still faces an uphill battle at the Olympics. Ranked No. 30 amongst figure skaters in the world by the International Skating Union, Martinez compete against seasoned veterans in a venue where perfection is key to qualify.
"I am hoping to finish in the top 24 to qualify in the freeskate/final event. I will be competing against older, veterans and more experienced skaters, some of them are former Olympians," Martinez said. "Several of these skaters had been skating even before I was born, thus it's a very, very tough competition."
4. Israel
Although this Middle Eastern country has fielded athletes at every Winter Olympics since 1994, most hail from somewhere else and have loose ties to Israel. Out of Israel's five Winter Olympians, three are Ukraine-born, one was born and lives in Belgium and another was born in Vermont and trains in New Jersey. 
Vladislav Bykanov, who was born in Ukraine and trains in Belgium, carried the Israeli flag at the opening ceremony and will be competing in the short track skating. Facing allegations that he and his fellow Israeli Olympians have loose ties to the country, Bykanov said, "For me, representing Israel is everything. I have never felt like I was anything else (than Israeli) ... I grew up and got into my sport in Israel, and everyone in the world sees me as Israeli, not Russian or anything else."
5. Hong Kong
Situated just within the tropics, Hong Kong isn't exactly known for ice and snow. This year, the region sent just one Olympian to the Winter Games: speed skater Pan-To Barton Lui. 
As the first male athlete from Hong Kong in the Winter Olympics, Lui said he was forced to practice in mall skating rinks due to lack of facilities of international standard. For a sport that requires speed, practicing in crowded mall rinks without proper crash barriers also posed a high risk of injury. While many of his friends gave up on the sport, Lui was determined to make it to Sochi. He moved to Vancouver and later Seoul, South Korea to practice at the Korea National Sports University. 
"Going to the Olympics is an important milestone in (my) life," said Lui. "I want to break my personal records."
6. British Virgin Islands
Competing for the first time in 30 years, the British Virgin Islands sent just one Olympian, freestyle skier Peter Crook, to Sochi. Currently ranked No. 27 in the world by the Association of Freeski Professionals, Crook was able to get to the Olympics after he created the British Virgin Islands Ski Association together with his father in 2010. 
"I'd say that the biggest challenge we faced was initially putting the concept before the British Virgin Islands Olympic Committee," he said in an interview with FreeSkier. "We had the task of explaining to them exactly what half-pipe skiing was. There was definitely some confusion as many had never been exposed to the sport and there certainly isn't any snow in the BVI!"
7. East Timor
This new nation sent its first winter Olympian, 19-year-old alpine skier Yohan Goutt Gonclaves, to the snowy slopes of Sochi. Gonclaves, whose father is French and mother is Timorese, trains in Australia and France during their respective winters and dounded the Federation of Skiing for East Timor in the hopes of competing in the Winter Games 2014. 
"It's a brand new country, only formed in 2002 and still developing. I particularly want to show that there is more to East Timor than war," said Goncalves. "It's still a bit complicated to explain what I do in Timor — the word 'ski' doesn't exist in the local dialect. People don't know that it's a sport, in the newspapers they call it 'snow skating'".
Goncalves, however, remains fiercely proud of the country that has never seen snow and already hopes to represent the Southeast Asian nation at the 2018 Winter Games in Pyeongchang, South Korea.
"I hold close to my heart my Timorese heritage and now being able to represent one of the world's poorest and most isolated countries of the world, my heart is about to burst with pride," said Golcalves.