7 Musical Moments That Make Fred Armisen the Perfect Late Night Band Leader for Seth Meyers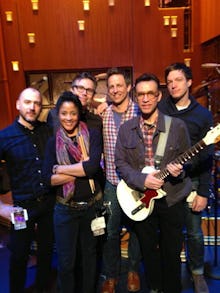 Fred Armisen is about to be the band leader for Seth Meyers' new late night show, and the Internet is split in two between those who are ecstatic about the choice and those who are a little confused by it.
It stands to reason. Fans who only know of Armisen courtesy of SNL sketches and Portlandia's recent success may have been a little surprised to hear he would be taking on a musical role, but he's actually perfect for the post: Armisen is a seriously accomplished musician and pretty much the ultimate fanboy with an incredible network of musical friends.
Here are the seven musical moments that reveal why Fred is the perfect choice to lead Meyers' band:
1. He was the drummer in a band called Trenchmouth before he was ever a comedian.
Armisen played the drums in his high school band before he moved from New York to Chicago to be the drummer in a post-hardcore band called Trenchmouth.
You can catch only a few glimpses of him in this video a fan shot back in 1992, but clearly he's a punk rocker (or post-hardcore rocker, whichever) at heart.
2. He plays drums on three famous Les Savy Fav songs.
Les Savy Fav is the quintessential mid-2000s New York band, and their fourth record, Let's Stay Friends, was a hugely important album that actually featured Armisen.
Armisen's longstanding relationship with the band also explains why Les Savy Fav's guitarist Seth Jabour and bassist Syd Butler will also be joining SNL's house band. Watch Armisen jam with the group circa 2007 above. 
3. His hilarious 'SNL' songs are actually being released by a label.
For a recurring SNL sketch, Armisen portrayed various, fictional bands from small towns in a series called "Hometown Heroes." Recently, label Drag City has chosen to release two of the singles on 7" vinyl.
Watch a clip of "Massachusetts Afternoon" by the fictional (and equally hilarious) Blue Jean Committee above. The flip side of the record will be "Embrace Me" by his other faux-group, the Fingerlings. The 7" will be out on February 18.
This isn't even the first time Drag City has released material by Armisen — they put out a single by another of his fictional groups, Crisis of Conformity, back in 2011.
4. He held his own in a drum off with Questlove.
Since Questlove is an unquestionably amazing musician, this is sort of the ultimate proof that Armisen is actually a really legitimate player.
Then there's this hilarious encounter on Jimmy Fallon's "old album covers" sketch that proves he's the perfect Late Night Show presence. The improvisation in these skits, both comedic and musical, is incredible.
5. This excellent live cover of "Police On My Back."
For a taping of Jule Klausner's "How Was Your Week?" podcast, Armisen did a live recording of the Equals' "Police On My Back" in New York's infamous record store, Other Music. The track is much better known for when the Clash covered it on Sandista, but Armisen's version even rivals theirs. The take is even available for download over at SPIN.
6. He was in the Wilco documentary 'I Am Trying to Break Your Heart.'
Armisen appeared as his famous character Fericito (similar to the character he played in Anchorman) in the Wilco documentary centered around the making of their seminal record Yankee Hotel Foxtrot. So he's friends with some of the biggest names in indie rock and Jeff Tweedy will almost certainly be on the show.
You can watch the whole documentary here. His role is roughly halfway through.
7. He knows every musician ever.
Aside from co-starring indie music royalty like Sleater-Kinney's Carrie Brownstein, Portlandia has also incorporated a lot of current musicians into the skits and associated shows. This performance with indie star St. Vincent would be amazing on a late night show, as would  the "Battle of the Gentle Bands" sketch that featured musical guests the Dirty Projectors and J Mascis (from Dinosaur Jr.).
The truth is he's been consistently doing great musical work under the guise of comedy. In his new role, he'll be hilarious, talented and capable of bringing some of the best indie musicians in the public eye. It's going to be amazing.