Yes, That Russian Figure Skating Prodigy Was Skating to the 'Schindler's List' Soundtrack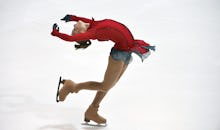 Russian figure skater Yulia Lipnitskaya's performance at the Sochi Olympics was nearly perfect, but one thing wasn't right: While every skater skates to certain music, she skated to the theme from the Holocaust drama, Schindler's List. Pretty offensive at a global event.
Lipnitskaya is only 15 years old, and she's the lead contender for World's Sochi Olympics Darling. She isn't to blame here, but the move is pretty tasteless: She wore red in a nod to the nameless young girl in a red coat who, in one heart–rending scene, is found dead, killed by Nazis. Especially on a global stage like the Olympics, this sort of performance is an unacceptable affront to our global memory.
Salon, calling the theme "kitsch of the highest order," protested that it tried to manipulate the audience by invoking the Holocaust. Meanwhile, the Twitter jokes flowed furiously:
To be sure, the Oscar–winning score — composed by the legendary John Williams — is fantastic, and deeply emotional. It's also not the first time someone has skated to it: In 1994, a German skated to the same music, wearing red, and similarly made headlines. To be fair, it is a great song to skate to. But the content of the music shouldn't be trotted out on the world stage for points.
But regardless of whether you believe her performance to be tasteless or flawless, Lipnitskaya is not to blame. Schindler's List is way before her time, and the theme of her skate was almost certainly picked by her coach. Like a good team player, Lipnitskaya did what she needed to. The performance should be criticized, but she should be left alone.