Watch Jon Stewart's Incredible Reaction to Michael Sam and NFL Teams Not Wanting Him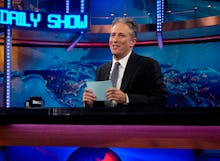 The news: In typically humorous fashion, Jon Stewart and the writers at The Daily Show have the perfect response to suggestions that NFL scouts are worried about the "controversy" around Michael Sam's coming out, to the point that it would hurt the openly gay defensive lineman's draft stock:
The Daily Show
Stewart's closing rant says it all: "No pro team wants the type of 'controversy' having a gay player is going to cause. If he had just been convicted of DUI vehicular manslaughter, or obstruction of justice in connection with a murder, or have been accused of sexual assault, or screamed the N-word at a concert, or killed a bunch of dogs and buried them in his fucking yard — you know, 'NFL material.'"
The background: University of Missouri star Michael Sam publicly announced that he was gay on Sunday, possibly making him the first openly gay player in American pro football history. The response from NFL players has been generally supportive, but many team scouts and general managers are wary of the "distraction" Sam's presence might cause in the locker room. Some suggest he might even go undrafted in May.
New England Patriots owner Robert Kraft has been one of the few executives to express his support for Sam: "We're about winning," he said. "And anyone who can come in here and help us win, I personally don't care what their ethnic background is, their racial background, the gender preference. If they can help us win, and they're about team first, then I'm happy to have him here."
The takeaway: The response to Sam's announcement has been decidedly mixed, but let's hope that wisdom and perspective prevail when it comes to teams' decision to draft him. Luckily, we have people like Jon Stewart to help keep us honest.