Watch a 22-Year-Old Kanye West Rapping His Heart Out in a Chicago Basement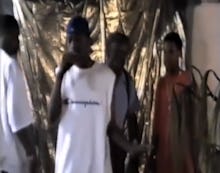 Yesterday marked the 10 year anniversary of Kanye West's first solo album The College Dropout and although the album is now almost universally beloved, West's path to success was anything but easy. People think of Kanye as an egomaniac, but it's easy to forget just how hard he had to work to achieve his fame.
But this recently discovered video of him at age 19 rapping alongside Chicago rapper Cap 1 in 1998 is the perfect reminder of where Kanye came from and just how badly he wanted to be a rapper:
West is accused of many things — from megalomania to extreme selfishness and entitlement. The truth is that he's always been a passionate artist and he's worked extremely hard to get to where he is today. We can mock him all we want, but he's one of the most passionate performers in music whose rants are just the flipside to his often extreme sincerity and care.
Just yesterday he tweeted to thank his fans for their support since The College Dropout:
Kanye has released five more solo albums and two collaborative projects since The College Dropout, and last year's Yeezus was considered to be another critical success. He currently has 21 Grammys (which is more than any other rapper in history) along with dozens of other awards. He may be egotistical, but he's fought with that same 22 year old's passion for everything he has.