Shaun White's Band is Called Bad Things. Here Are 10 Other Things You Didn't Know About Him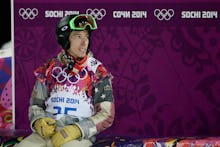 American snowboarder Shaun White is without a doubt one of the most exciting extreme athletes around today. He's an X Games record holder, a winner of 10 ESPY Awards and a back-to-back Olympic champion winning the halfpipe gold in 2006 and 2010.
Unfortunately, White didn't manage a three-peat and failed to make the podium in Tuesday's halfpipe event. However, White didn't let him get that down for too long — he's now committing himself to his band, Bad Things. Jeff Pasan of Yahoo! Sports tweeted that Shaun will be temporarily hanging up his board and picking up his guitar.
White is the lead guitarist of the Los Angeles-based rock band Bad Things. The band started playing in summer 2013 and has since had a few small tours as well as a headlining slot at 2013 Lollapalooza, and their self-titled debut album was just released on Jan. 21, 2014. While the quick switch might be a bit of a surprise (or perhaps a knee-jerk reaction after his disappointing Olympic performance), his commitment to the band is not. In an August 2013 Rolling Stone interview, White talked about how he handles his time with Bad Things: 
"I drop everything for these guys. [Photo] shoots, practice, anything I need to do. Because it's a very serious thing for us. ... I stop snowboarding and I completely dive into skating. I forget everything about snowboarding ... and I focus completely on skateboarding. And that's how its been for music."
And frankly, it's not surprising that White is so committed to his band. He didn't manage to get where he is today only giving a half effort and not putting all of his focus into each project. White lives life to the fullest, in snowboarding, music and pretty much everything else. So to give you a better sense of what that life entails, here are a few more interesting facts about White that you might not know. 
1. He likes to party.
In 2012, White was arrested and charged with public intoxication and vandalism after pulling a fire alarm in a Nashville hotel that forced guests to evacuate to building at 2:00 a.m. At the time, White was given the option to sign misdemeanor citation but refused, effectively putting himself in jail, according to ESPN.
He later apologized for "any inconvenience it caused my family, friends, business partners, the hotel and their guests," adding that he was "celebrating a happy occasion with a ton of family and friends and got carried away. I'm truly sorry for my poor behavior."
2. He got his first sponsorship at 7
Though White is only 27-years-old, he's been a pro snowboarder for 13 years. Following in his older brother's footsteps, White switched from skiing to snowboarding at age 6, and by 7 he had received his first sponsorship from Burton. 
Though Shaun's brother Jesse never reached the same heights, he's now Shaun's manager. 
3. He was discovered by Tony Hawk
With his skills, White was likely to make a splash in the extreme sports scene no matter what, but when he was 9, White was befriended by skateboarding legend Tony Hawk who mentored and helped White become a professional skateboarder at the age of 17. 
4. He was born with a heart defect
White was born with a heart defect, Tetralogy of Fallot, that required two major surgeries to correct a heart defect before he was 1 year old. The condition appears to have had little-to-no effect on him since as he's been playing aggressive sports from a young age. 
5. He's kind of an actor
White has taken his talents to the screen a few times with appearances in Friends with Benefits, American Dad! and The Smurfs 2. While The Smurfs 2 was the only role for which White didn't play himself and the movie was fairly awful, it wasn't totally his fault. Either way, White probably knows his future is less on-screen and more on-slope. 
6. He's an X games legend
Besides the impressive feat of being the first person to compete in and win both the Summer and Winter X Games in two different sports, White also has the record for most X Games medals ever at 23, 15 of which are gold. 
7. His nickname ...
White was given the nickname "Flying Tomato" because of his bright red hair and high-flying maneuvers, but he's since grown tired of the name and no longer embraced it as he once did. Instead, he's taken to the name "animal" after the drummer in Dr. Teeth and the Electric Mayhem. 
8. He donated his hair
As the great Mr. West said, "She had hair so long that it looked like weave/Then she cut it all off now she look like Eve." Once known for his wild mane, White chopped off his locks in 2012 and donated them to Locks of Love. 
9. He's on the Power 100
In 2011's Businessweek.com's Power 100 rankings of most powerful athletes, White claimed the No. 2 spot (just behind Peyton Manning) on the list. Leading up to this, White had just won his second Olympics gold medal, invented a new insane trick — the Double McTwist 1260 — and drawn endorsements from a number of mainstream sponsors including Visa, Target and Oakley. White was also the only extreme sport athlete on this list. 
10. He once dated Lindsay Lohan
Enough said.