How Yelp Turned a Homophobic Restaurant Into the Hottest Gay Club in Town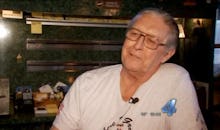 The news: Sometimes, it's easy to forget how mind-numbingly ignorant people can be. Then we uncover guys like Gary James of Enid, Okla., and it all comes flooding back.
The small-town restaurant owner stirred controversy last week, when a News Channel 4 special revealed him to be the most cartoonish bigot since Clayton Bigsby. "I really don't want gays around," he told a reporter, adding that she shouldn't be offended if he called her a "chink." James also dislikes people on welfare, and refuses to serve blacks, Hispanics, Muslims, Democrats, or people with disabilities at his restaurant, Gary's Chicaros.
"I've been in the restaurant business 44 years," James says. "I think I can spot a freak or a f*ggot." He also sells souvenir t-shirts covered in racial slurs and threats, in case you wish to commemorate your horrific dining experience.
Unfortunately for Gary, there's this thing called Yelp. Since the above interview aired, people have been using the review site to advertise Gary's Chicaros as the hottest, most "fabu!" gay club in the area.
They started by changing its name and making it really expensive:
Then they added some helpful commentary:
Some even included "pros" and "cons":
Whether this has helped or hurt the restaurant's patronage remains unclear. From the looks of it, I'd imagine Gary's Chicaros was lacking in the customer department anyway. But either way, what's certain is this: as long as the Internet exists, there will be plenty of opportunities to fight bigotry with humor, no matter who or where you are.
So ready your tools, comedians of the world. Gary's Chicaros just became your canvass.