Why Every Smart College Grad Should Seriously Consider Working At A Startup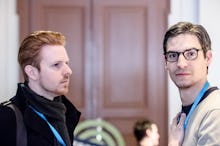 Many of America's most highly-educated college graduates are making a big mistake. They are listening to the siren call from consultancies and financial firms, forgoing the entrepreneurial path that could ultimately lead to job creation, innovation, and a higher quality of life for everyone. 
In his new book, Smart People Should Build Things, Venture for America Founder Andrew Yang argues that although our young graduates aren't entirely to blame for this — siren calls are powerful — it's a real problem that needs fixing.
"Young people are making life-altering decisions based upon incomplete and unclear information," Yang writes in his book, which was released on Feb 4. "Universities should invest in helping their students understand what different options look like and what they represent. They should even feel free to advocate. It's not enough anymore to let the market do its thing; there's a war for talent under way, and sitting on the sidelines is no way to influence its outcome."
He points out that companies with the deepest pockets are the ones who can afford to recruit heavily on college campuses. They provide the best and the brightest competitive jobs that offer security, prestige, and career advancement — and it's incredibly alluring. But these types of jobs are only feeding the "meta economy," as Yang calls it. Top grads are using their intelligence to become experts in Excel and PowerPoint rather than solve real problems. Many want to be entrepreneurs, but they don't know where to start. 
So in 2011, Yang founded Venture For America to provide a solution. He modeled it after Teach For America; but instead of placing top graduates into struggling schools, VFA sends grads to startups in re-emerging cities like Detroit, New Orleans and Las Vegas. He created VFA because it's the kind of program he wishes had existed when he graduated from Brown University in the mid-1990s.
The son of Taiwanese immigrants, he subscribed to the idea that if you're smart, you'll follow one of the traditional paths after college. Not knowing exactly what he wanted to do after graduating, he went to law school and became a corporate lawyer. He hated it. So after a few months he quit and co-founded a startup intended to revolutionize celebrity philanthropy. Unfortunately, after bootstrapping and eventually raising a modest round, Stargiving.com didn't survive the dotcom bust. Yang joined a few other ventures before becoming CEO of test prep company Manhattan GMAT, building it into a market leader and selling it to Kaplan and the Washington Post Company in 2009.
Although Yang became a millionaire by the time he was in his early 30s and liked his job, he says that he felt compelled to help driven, smart young people find their mission. In his book, he writes:
"I knew a few things. I knew that there were promising startups and growth companies all over the country that needed talent to expand and thrive. I knew firsthand that there was an army of talented, ambitious, somewhat directionless young people who'd love to work for a startup. And I knew that if we could connect these two groups, we'd help everyone: the individuals, the companies, cities and communities around the country, the economy, and society as a whole."
Even for all the focus on Silicon Valley and other emerging startup hubs around the country, it's still quite difficult for someone to make the leap into the startup world right out of school. Most startups don't have the financial resources to recruit on campuses even though there's a clear need for strong entry-level talent.
"VFA is trying to de-risk what's inherently risky," says Patrick McAnaney, a 2013 fellow who is working with Tony Hsieh's Downtown Project in Las Vegas. He joined VFA after pursuing a Fulbright scholarship in Brazil. "We talked a lot about failure and passions during training camp."
Another Vegas fellow, Jake Eichengreen, is working with Downtown Project's $50 million VegasTechFund. "After the first couple weeks, the only feedback I got was that I hadn't screwed up enough," he says. "They encourage us to take big risks and just stand by them and learn. It's a really experimental culture."
The idea with VFA is that after two years working in the trenches at a startup, some fellows will decide to stay with their startups, and others might be ready to start their own companies. The program offers seed money to fellows with the most competitive startup ideas. 
For those who are seriously interested in the entrepreneurial life, Yang reminds them that "building things is hard, really hard," but keep in mind that the intrinsic rewards are well worth it.