Here's What the Soundtrack to Tarantino's Lost Film 'The Hateful Eight' Would Have Been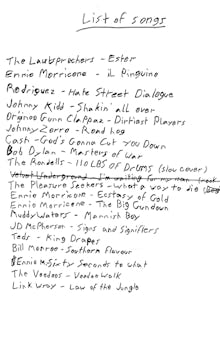 The strange saga of Quentin Tarantino's Western script The Hateful Eight has taken a new turn. An anonymous user at 4plebs claims to have possession of a tracklist detailing 20 songs the filmmaker was planning to use in the project. As movie fans know, this is a big deal: Tarantino's notoriously eclectic soundtracks are almost as legendary as the films themselves.
The Hateful Eight was derailed by Tarantino himself when he found out the unfinished script, which he'd given to just six people, had been leaked on the Internet. The outraged filmmaker shelved the project and claimed he would not make the film, then proceeded to take legal action against Gawker, which posted a link where the script could be downloaded.
Since then, rumors have circulated that the director has calmed down and might consider making the film after all. Fans will have to wait to find out for certain. Meanwhile, here's the alleged photo of the original document, followed by a YouTube video list of all the songs.
(NOTE: The legitimacy of this list is unconfirmed and unofficial. However, it definitely sounds like a Tarantino soundtrack, and makes for an absolutely awesome listen regardless)
1. The list
2. The Lautsprechers, 'Ester'
3. Ennio Morricone, 'Il Pinguino'
4. Sixto Rodriguez, 'Hate Street Dialogue'
5. Johnny Kidd and the Pirates, 'Shakin' All Over'
6. Originoo Gunn Clappaz featuring Heltah Skeltah, 'Dirtiest Players in the Game'
7. Johnny Zorro, 'Road Hog'
8. Johnny Cash, 'God's Gonna Cut You Down'
9. Bob Dylan, 'Masters of War'
10. The Rondels, '110 Lbs. of Drums'
11. The Velvet Underground, 'I'm Waiting for My Man'
NOTE: This song was crossed out on the list.
12. The Pleasure Seekers, 'What a Way to Die'
13. Ennio Morricone, 'The Ecstasy of Gold'
14. Ennio Morricone, 'The Big Gundown'
15. Muddy Waters, 'Mannish Boy'
16. J.D. McPherson, 'Signs and Signifiers'
17. The King Drapes, 'Teds'
18. Bill Monroe and the Bluegrass Boys, 'Southern Flavor'
19. Ennio Morricone, 'Sixty Seconds to What?'
20. The Voodoos, 'The Voodoo Walk'
NOTE: Songs starts around the 51:11 mark.
21. Link Wray, 'Law of the Jungle'