8 Fashion Crimes Committed in the Sochi Pairs' Figure Skating Event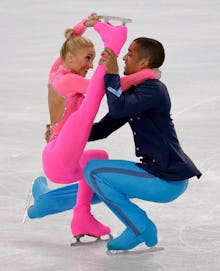 What is it about pairs' skating that inspires the most ill-advised costumes per capita among the four skating disciplines? Is it because Vera Wang is too busy making costumes for singles' skaters? Or does groupthink take over when you have a partner who enables your poor fashion sense? The level of skating in today's pairs' short program was very high, but the level of taste was unsurprisingly low.
1. Aliona Savchenko & Robin Szolkowy — Germany
The four-time World Champions are known for their questionable fashion choices, so it seems fitting that they brought their infamous Pink Panther costumes back for their final Olympics. Aliona always loves to wear tight bodysuits to remind us that she has an amazing body, but Robin deserves special points for dressing up his own bodysuit with a nice jacket.
2. Kirsten Moore-Towers & Dylan Moscovitch — Canada
The second-ranked Canadian team tends to skate in more muted colors, but they chose to launch a color explosion in Sochi. In the end, this normally elegant and refined pair came across looking a bit cheap.
3. Peng Cheng & Zhang Hao — China
You have to respect Zhang Hao for his longevity and competitive success. But is it really necessary to bring the rat tail back in 2014? I want to come after that thing with a pair of scissors.
4. Stefania Berton & Ondrej Hotarek — Italy
The neon yellow pants were not a dealbreaker, especially for a program to music from The Mask. However, three shades of yellow/gold on two skaters is two too many.
5. Maylin Wende & Daniel Wende — Germany
The husband-wife team chose to interpret the music of Guns 'N' Roses with different takes on a disco ball theme. She went all out, he just glued sequins to his collar and belt. I choose none of the above.
6. Andrea Davidovich & Evgeni Krasnopolski — Israel
In the words of Nancy Armour of the Associated Press: "The music says Fantasy for Violin and Orchestra, the purple costume says nightmare."
7. Miriam Ziegler & Severim Kiefer — Austria
Hot pants. Big tab collars. Suspenders. All to very sleepy music. It was surreal.
8. Stacey Kemp & David King — Great Britan
At least the British pair took the effort to match their pink ensembles, but it was all a bit confusing when paired with their stately and majestic Tchaikovsky music.