9 Worst Love Lessons from Romantic Comedies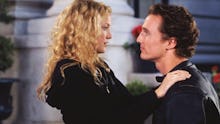 Romantic comedies make us laugh, cry and believe in true love. Unfortunately, they also make us believe in a whole bunch of other things aren't true — things that are kind of false and definitely destructive.
In honor of Valentine's Day, we give you a list of films that taught us incredibly stupid love lessons that we hope people are sensible enough to ignore.
1. All true love begins with huge lies.
Film: How to Lose a Guy in 10 Days
In this film starring Kate Hudson and Matthew McConaughey, love is a battlefield: Andie (Hudson) wants to lose the guy for the sake of an article, and Ben (McConaughey) is trying to prove that he can make any woman fall in love with him. Hilarity ensues.
But, of course all ends happily, because as it turns out, lying about your motives for dating someone and pretending to be more interested in them than you are in order to further your own self-interest will help build the love, respect and above all — trust — that a solid relationship needs.
2. High school sweethearts are the only true love.
Film: Sweet Home Alabama
This southern charmer featuring Reese Witherspoon, Josh Lucas and Patrick Dempsey (also known as McDreamy) concerns Melanie, a former Alabama-girl turned New York City-woman, returning to her hometown. She heads back down south — and down memory lane — to finally get a divorce from Jake, whom she married right out of high school, so she can marry her New York boo, Andrew.
In the end, of course, there is no divorce, just your typical change of heart at the altar with the unfortunate Andrew — because, obviously, the person you married at 18 is the person you should be with forever.
3. Sometimes, you can force people to marry you and it turns out alright.
Film: The Proposal
In this film, an uptight and overbearing boss, played by Sandra Bullock, is about to get deported from the country, until she hatches a brilliant scheme: force her assistant — the hunky Ryan Reynolds — to marry her.
What she learns is that, well, Ryan Reynolds is very hunky, and maybe they should really get married, not just for citizenship purposes. What we learn is that bullying an employee into pretending to marry you is the perfect start to a beautiful relationship. 
4. The guy who stands you up is probably your best bet for true love.
Film: Pretty in Pink
They really knew how to make great high school romantic comedies in the '80s — but they really did not know about real love. In Pretty in Pink, Molly Ringwald plays poor, smart Andie who dates Blane, a cute but wealthy and spoiled young man whose friends are desperately trying to convince him not to date out of his circle.
And he's easy to convince. He renegs on his offer to go to the prom with Andie. Nevertheless, he somehow manages to convince her it was all her fault, because duh. Though Jon Cryer's performance as Duckie, Andie's hilarious and quirky best friend who loves her dearly and secretly, is the highlight of this film — Andie chooses to kiss and make up with Blane. This rom-com teaches us that the guy who stands you up for prom is better boyfriend material than your stand-up guy, the best friend with the witty banter and genuine care for you.
5. If you knock somebody up, they are your true love.
Film: Knocked Up
Fact: Judd Apatow makes smart, intellectually stimulating romantic comedies. Also fact: Nobody is perfect.
Knocked Up is a critically acclaimed laugh-riot starring Katherine Heigl and Seth Rogen in which Allison gets pregnant after a one-night stand with Ben, an unemployed but very sweet pothead. Although their arguments and shouting matches probably make up half the movie, they end up together, because as we all know, whomever you have an accidental child with must also become your spouse.
6. If a women says she just wants a casual relationship, just keep trying.
Film: No Strings Attached
Ashton Kutcher and Natalie Portman star in this movie, which was pretty much identical to Friends with Benefits, a film made the same year.
Though Adam is interested in something deeper, Emma wants to have a strictly-sex relationship — or she says she does. But, as this educational film reminds us, women are not capable of understanding what they want, and they also don't really mean what they say. So obviously, Emma does end up requiting Adam's love and pursuing a romantic relationship, because no woman could ever possibly say that she just wants casual sex and mean it — ever.
7. If somebody ruins your career, they are still a viable option for romantic partner.
Film: You've Got Mail
There's no doubt that Meg Ryan and Tom Hanks have great chemistry in this adorable 1998 romance about small business owner Kathleen Kelly, who doesn't realize the anonymous e-mail pen pal she loves is the same man that she hates in person, her business rival, Joe Fox of Fox Books.
Eventually they become friends and fall in love in real life, and when Joe reveals that he is her pen-pal-lover-boy, it's Kathleen's dream come true. As anyone can see, the man who put her out of business and made her close the book store her dead mother owned, is the man she should be with.
8. To earn someone's love, you must spurn said person.
Film: Pitch Perfect
This recent college comedy is mostly about the singing and Rebel Wilson being funny, but there's also that love story between ice queen Beca (Anna Kendrick) and fellow a capella cutie Jesse (Skylar Astin). She spends the majority of the film spurning his advances, but he doggedly pursues her.
Though Jesse does give up for a bit toward the end, forcing Beca to win him back, we're still left with the nonsensical message that pushing someone away will only make you closer.
9. Prostitution — maybe not so bad?
Film: Pretty Woman
It's a beloved classic and a real Cinderella story — and it's also profoundly disturbing. A prostitute, played by Julia Roberts, gets picked up by an unhappy rich man, played by Richard Gere, who pays her to be his "date" for the next week. Naturally, they fall in love and live happily ever after. The imbalance of power in their romance — based on the fact that he's paying her and that he "saves" her from prostitution — is not an issue, apparently.
But more than anything, this flick does break one important rule: Never date someone you work with!