Olympics Recap: Shaun White Crashes Out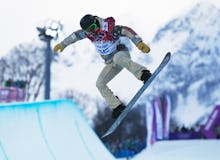 For the first time in his professional career, crowd favorite Shaun White has failed to medal at the Olympics. Though the halfpipe is his specialty, White just missed the cut and ended up in fourth place.
Many expected him to make history as the first athlete to win three consecutive gold medals in the same event at the Winter Games. Unfortunately, White lost out on his chance for a three-peat with a few fumbles and — for the first time since he made his Olympic debut in 2002 — is going empty-handed.
The competition was close, with the top four all scoring above 90. White just missed out on the podium with his score of 90.25 (the third place score was 92.25). The honors instead went to a new crop of snowboarders: Iouri Podladtchikov (Switzerland), Ayumu Hirano (Japan) and Taku Hiraoka (Japan). Hirano is only 15 years old.
Still, White said he was grateful for his chance to compete, and for the impact he has been able to make on snowboarding over the years.
"For me to be remembered in the sport, I don't think tonight makes or breaks my career," White said. "I've been snowboarding for so long, and I love it so much, that I'm happy to take this for what it is and move on and continue to ride."
Before the Games officially began, White injured his wrist while practicing on the slopestyle course and had to pull out of that event.